While strong winds yesterday played havoc with the launch of Sky Muster™II and GSAT-18, today was another story. From Arianespace's Spaceport in French Guiana the launch went without a hitch, indicating that SSL's president, John Celli was not wearing a tie.
Yesterday the Satnews editorial team showed up at SSL's Palo Alto facility to witness the launch from the west coast headquarters of the company that produced nbn™'s satellite, Sky Muster™II, only to learn that Arianespace had just issued a scrub of the launch due to strong winds.
No matter, the team enjoyed some down time with the west coast SSL executive team and some Aussies involved in nbn™'s satellite, Sky Muster ™II. This is a government sponsored satellite that will enable more areas of Australia that heretofore have never been digitally connected will now have access to the Internet. At the nbn™website there are heartwarming examples and stories of folks, young and old, who have benefitted from the availability to communicate with the world. Children whose schooling is so remote they only used to meet on a monthly basis with a teacher and have been attending to their homeschooling long distance. However, now these kids are interfacing live with teachers and folks who can ask, and answer, and show these youngsters the world. From central dry Australia they've seen the ocean and all the beautiful underwater sea life. Conversely, the brother and sister in the video show the others their world and all the interesting elements that they experience every day.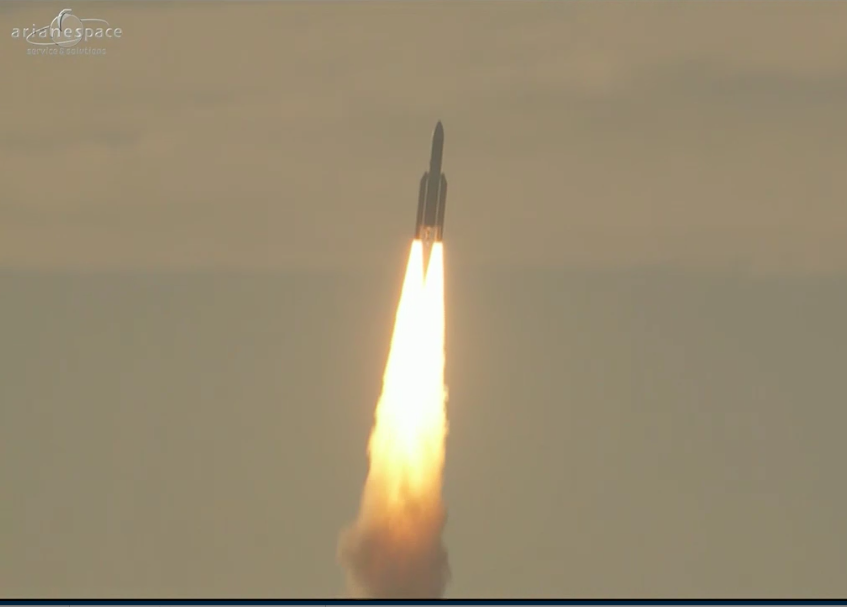 Getting back to the necktie. We asked John, Mr. Celli, if he has any superstitions about the launches he's been a part of. He smiled and told us that a while ago he was in attendance at a launch dressed in a suit and tie, in which things didn't exactly go smoothly. He said he had an idea and from then on he has gone 'tieless' and all subsequent launches have proceeded without a hitch. He has shared this little piece of superstition/information with his various clients and, sure enough, when there's a launch they all show up with—no ties.
Designated Flight VA231 in Arianespace's numbering system, today's dual-passenger mission was the 231st launch of an Ariane-series vehicle.
Ariane 5 delivered a lift performance of more than 10,600 kg. on the mission to geostationary transfer orbit (GTO), which is designated Flight VA231. This total includes some 9,800 kg. for its Sky Muster™ II and GSAT-18 satellite passengers, and also factors in the 'workhorse' vehicle's dual-payload deployment system and integration hardware. Another dual-passenger launch for Ariane 5.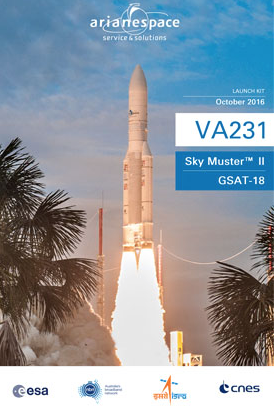 The Sky Muster™ II satellite, which was produced by SSL (Space Systems Loral) for Australian operator nbn™, rode in the upper position of Ariane 5's payload arrangement, and was deployed first during the 32-min. flight sequence.
Carrying Ka-band transponders, Sky Muster™ II reflects Australia's commitment to bridging the digital divide, especially in its rural and isolated regions. The satellite will help extend high-speed Internet to the entire country, including the Norfolk, Christmas, Macquarie and Cocos islands. Arianespace orbited the first Sky Muster™ spacecraft on an Ariane 5 mission performed in September 2015.
Located below Sky Muster™ II in the launcher payload arrangement is the mission's lower passenger, GSAT-18, which was developed by the Indian Space Research Organisation (ISRO) with 12 transponders in Ku-band and another 24 in C-band. It will provide telecommunications services for India once in its final orbit, strengthening the Indian space agency's current fleet of 14 operational satellites.