[SatNews] ST Teleport, a Singapore-based full-service satellite and fiber communications solutions provider, has formed a strategic partnership with Telespazio (Finmeccanica/Thales), a global leading provider of satellite services operating the world's largest teleport facility, to jointly establish a global Ku-band communications network for maritime oil and gas (MOG) customers.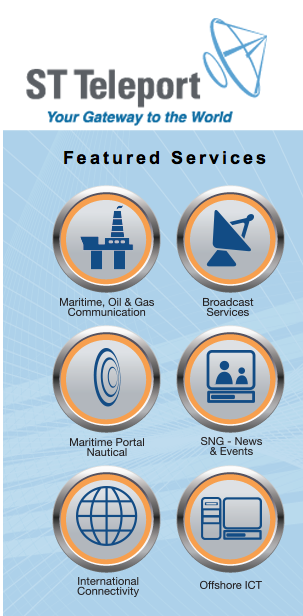 Under the multi-year agreement, ST Teleport will be Telespazio's preferred partner in Asia Pacific. ST Teleport is also the only teleport company in the domestic market to have partnered the world's biggest teleport operator to expand its international reach.

Telespazio's network of seven teleports including the largest commercial teleport facility in the world, the Fucino space center with more than 170 antennas linked to major fiber point of presence (PoPs) around Europe, will connect with ST Teleport's Earth station complex strategically located at the centre of major shipping routes in Singapore, creating synergistic business value to boost their service offerings to customers and the MOG industry. The companies will leverage on each other's extensive complementary presence, industry expertise and technical resources to create cost-effective, secure and reliable global satellite communications solutions for their customers across different vertical markets.

ST Teleport's MOG customers can now enjoy previously unavailable global Ku-band coverage, fast and uninterrupted data transmission, and global technical support regardless of where they or their assets are located in the world. A comprehensive service coverage area over seven continents spanning Asia Pacific, Africa, the Americas, Europe and the Middle East with line of sight to more than 200 satellites will bring ultimate connectivity for mission-critical operations anywhere in the world. This multi-regional coverage is made possible by converging the companies' Ku-band beams around the world with automatic switching technology.

Telespazio, being a major global provider of geospatial application solutions and services in all areas relating to Earth observation, will bring new opportunities for ST Teleport to enter the geoinformation industry to offer customers services such as environmental monitoring, rush mapping in support to natural disaster management, specialised products for defence and intelligence, maritime surveillance, interferometric products for landslide and ground subsidence analysis, thematic mapping for agriculture and forestry. The two companies are also in the initial stages of jointly developing other value-added satellite communication services to enhance their portfolio and capabilities which will be shared in the near future.
"We are delighted to be the preferred partner for Telespazio in the Asia-Pacific region. Telespazio's strong presence and coverage in Europe and the Americas will greatly extend our reach and increased our ability to provide seamless and integrated solutions to our customers. As a teleport operator, we play a vital role in the satellite communication ecosystem. Being strategically located in Singapore where the government has set a vision to build a thriving space industry, this partnership comes at the right time for us to capitalize on the opportunities in this sector poised for growth. Our existing collaborations with other international satellite operators and communication service providers, combined with this new global reach, further expands our ability to offer high performance global connectivity for our customers to grow their businesses anywhere around the world," said Joseph Chan, Managing Director of ST Teleport.