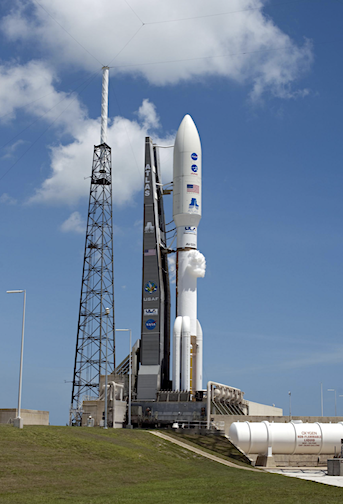 It's unfortunate when there's a launch delay, but it is always a good thing that problems are discovered and resolved before the launch, and such is the case with the upcoming planned United Launch Alliance (ULA) Atlas V 551 rocket which will carry the Fifth Advanced Extremely High Frequency (AEHF-5) mission for the U.S. Air Force Space and Missile Systems Center.
The report indicates that the delay is due to a vehicle battery failure discovered during final processing. Additional time is needed for the technical team to complete the evaluation of the issue and replace the battery. Launch of the AEHF-5 mission is now targeted for no earlier than Tuesday, July 9, 2019, 5:27 AM PDT, from Space Launch Complex-41, Cape Canaveral Air Force Station, Florida.
United Launch Alliance will use an Atlas V 551 rocket to launch the fifth communications satellite in the Lockheed Martin-built Advanced Extremely High Frequency (AEHF) series for the U.S. Air Force Space and Missile Systems Center. AEHF satellites provide highly-secure, jam-proof connectivity between U.S. national leadership and deployed military forces. Atlas V rockets successfully launched the first four series of communications AEHF satellites in 2010, 2012, 2013 and 2018. The satellite will provide global, survivable, protected communications capabilities for strategic command and tactical warfighters operating on ground, sea and air platforms.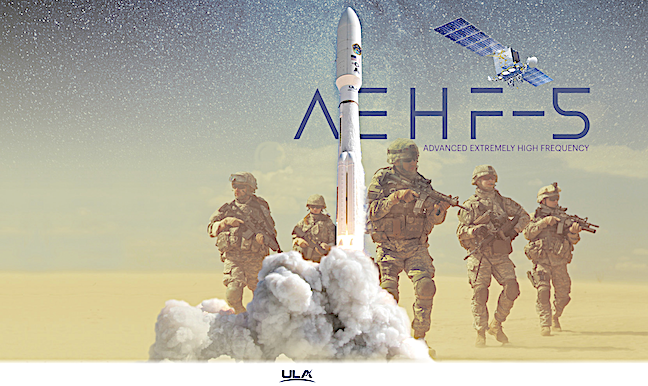 Atlas V rocket is a workhorse for the U.S. military, intelligence community and scientific researchers, and is an expendable launch system in the Atlas rocket family. Developed as a modular vehicle, each Atlas V is tailored to the needs of its passenger by adding as many as five side-mounted solid rocket boosters for increased lift performance and a variety of available payload fairings in various diameters and lengths to protect satellites during atmospheric ascent.
It was formerly operated by Lockheed Martin and is now operated by United Launch Alliance (ULA), a joint venture with Boeing. Each Atlas V rocket uses a Russian-built RD-180 engine burning kerosene and liquid oxygen to power its first stage and an American-built RL10 engine burning liquid hydrogen and liquid oxygen to power its Centaur upper stage. The high-energy Centaur upper stage, which has been used to send spacecraft to every planet in the solar system, is incorporated into Atlas V to deliver the payloads to their intended destinations.
The RD-180 engines are provided by RD Amross, while Aerojet Rocketdyne provides both the RL10 engines and the strap-on boosters used in some configurations. The standard payload fairing sizes are 4 or 5 meters in diameter and of various lengths. Fairings sizes as large as 7.2 m in diameter and up to 32.3 m in length have been considered. The rocket is assembled in Decatur, Alabama and Harlingen, Texas.
The AEHF-5 launch will mark the 80th Atlas V mission since the inaugural launch in 2002 and the 10th in the 551 configuration.