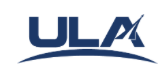 Launched into the night sky all went well as United Launch Alliance's Atlas V 551 rocket launched AEHF-4 on Wednesday from Space Launch Complex 41 at Cape Canaveral Air Force Station, Florida.
Tonight's number four launch joins the successful first three Advanced Extremely High Frequency communications satellites for the U.S. Air Force aboard Atlas V rockets in 2010, 2012 and 2013.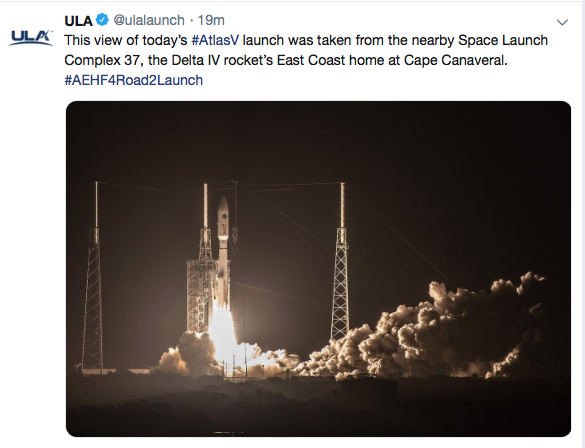 Lockheed Martin Protected Communications vice-president Mike Cacheiro said that this fourth satellite will complete a worldwide ring of AEHF satellites to deliver global extended data rate (XDR) coverage for the USAF and for the partner nations, Canada, the Netherlands and the UK, that also connect to the AEHF network.
He added that real-time video, battlefield maps and targeting data will be provided by the satellite to help support military communications. And that the Silicon Valley-based team that built this satellite can't wait to see it lift off. And in the meantime, they're making great progress on producing the fifth and sixth satellites in the constellation.
Built by Lockheed Martin, the communications AEHF-4 satellite was manufactured at the company's facility in Sunnyvale, California, U.S., and delivered to Florida on July 27.
AEHF satellites provide highly-secure, jam-proof connectivity between U.S. national leadership and deployed military forces. Atlas V rockets successfully launched the first three AEHF satellites in 2010, 2012 and 2013 as the new constellation was formed in geosynchronous orbit 22,300 miles above Earth.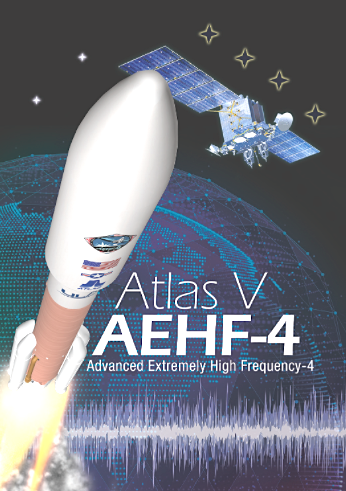 The constellation of four satellites can deliver communications capabilities that are jam-proof and provide low probability of detection or interception.
The system has been designed to deliver improved global and highly secure protected communications for strategic command and tactical troops operating on the ground, at sea, and on air platforms.
Real-time video, battlefield maps and targeting data will be provided by the satellite to help support military communications.
Lockheed noted that a single AEHF satellite is capable of providing total capacity that is greater than the constellation of the five-satellite Milstar system.
While the MILSATCOM Systems Directorate at the USAF Space and Missile Systems Center is leading the AEHF project, Lockheed Martin serves as the primary contractor and Northrop Grumman as the payload manufacturer.
Much of this information was derived from Air Force Technology
The U.S. Air Force Space Command is responsible for operating the system. This will be 131st mission for United Launch Alliance and the 50th launch for the Air Force. It is the 79th for an Atlas V rocket and the 9th in the 551 configuration.