U.S. Africa Command's telecommunications requirements were the subject of discussion at the inaugural Africa Telecommunications Symposium, hosted by the Defense Information Systems Agency's Africa Command (DISA Africa) and the Defense Information Technology Contracting Office —— Europe, in Stuttgart, Germany May 7 to 8.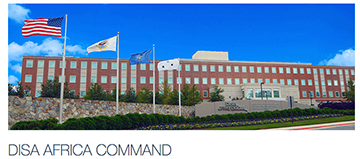 Attendees representing DISA, U.S. Africa Command (AFRICOM) and their component organizations met with more than 24 telecommunications service vendors to discuss plans and requirements to foster innovation, build out the theater's network-based communications infrastructure, and enable assured service delivery in support of the AFRICOM Theater campaign plan. Government representatives and commercial service providers presented information regarding telecommunications processes, capabilities, and services in open forum and during one-on-one engagements.
AFRICOM is working toward "setting the theater," a term for the activities associated with establishing the conditions for executing operations, in Africa. AFRICOM J6 Communications Director Army Col. Christopher Eubank said the biggest challenge in setting the theater in Africa is the size of continent. "There are 54 countries, 53 in AFRICOM's area of responsibility," he said. "Many of them are three to four times larger than the largest states in the U.S."
Eubank said although the vast and unique geographical and political landscape of Africa may present a challenge, AFRICOM's J6 Directorate is determined to ensure telecommunications infrastructure is in place and ready to support any operation.
Technology has evolved beyond traditional point-to-point solutions for building networks and AFRICOM wants to pursue new service offerings, specifically software-defined architectures. Benefits of software-defined networks include rapid provisioning, increased control and shaping of network traffic, and new ways to secure communication paths. Eubank emphasized the importance of bringing new technologies to the theater by informing participants that two years ago, 90 percent of telecommunications service delivery in theater was via satellite links, noting that the organization should work toward fusing multiple technologies and enabling network-based communications.
Telecommunications services are assured worldwide to support the Department of Defense Information Network (DODIN). However, the great distances, austere environments, and evolving requirements in Africa present unique obstacles. DISA Africa Field Office Commander Army Colonel Michael L. Haggard outlined his vision of telecommunications service delivery in his keynote address.
"We should work toward delivering a network infrastructure that is not only responsive, survivable, and flexible, but can also grow as sites potentially evolve …," said Haggard.
AFRICOM seeks to make meeting concurrent, episodic mission requirements across the continent a priority. The J6 Directorate also faces a significant challenge to support the Command, Control, Communications, Computer and Intelligence (C4I) needs of the warfighter across the continent. Limited infrastructure, combined with immature service provider capabilities, affect AFRICOM's ability to rapidly deploy survivable transport capabilities sized to meet the needs of its campaign plan objectives.
To address this, AFRICOM intends to work with DISA to leverage emerging technology, innovation, teamwork, and to develop international partnerships to protect critical infrastructure.