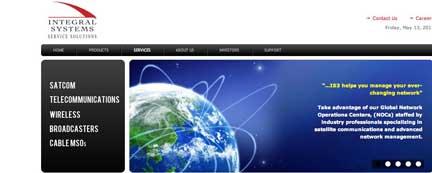 [SatNews] Integral Systems today was chosen by SES for a variety of services.
Integral Systems, Inc., (Nasdaq:ISYS) announced today that its services organization, Integral Systems Service Solutions (IS3) has entered into a long-term agreement with Luxembourg-based satellite owner/operator SES to provide global geolocation services.
Under the terms of the five year agreement, SES will subscribe to IS3's geolocation services to help protect its global fleet of commercial communications satellites from the effects of radio frequency interference (RFI). SES will also host two of IS3's eleven dual-antenna interference Detection and Geolocation (iDetGeo) suites at its teleport sites in Woodbine, Maryland and Sunset Beach, Hawaii.


"We are extremely pleased to continue Integral Systems' long-standing business relationship with SES in announcing this exciting new business arrangement," said
IS3 Vice President and General Manager
,
Ernie Dickens
.
"It allows us to augment the current SES-owned ground-based infrastructure of Integral Systems' Monics® signal monitoring and satID® geolocation systems by delivering an enhanced level of response to the ever increasing threat of RFI/EMI."
"This
new geolocation services agreement with IS3 will improve SES's response to RFI in all geographic regions and support delivery of customer bandwidth services at the highest possible levels
," said
Stewart Sanders
,
Sr. Vice President for Customer Service Delivery - SES Engineering.
"We believe that combining our existing SES-owned geolocation assets with IS3's service offering is a logical step which will provide the best service for our global customer base."
IS3 is a global provider of systems and services to detect, characterize and geolocate sources of RFI. Its
customers include U.S. and foreign commercial, government and military organizations.