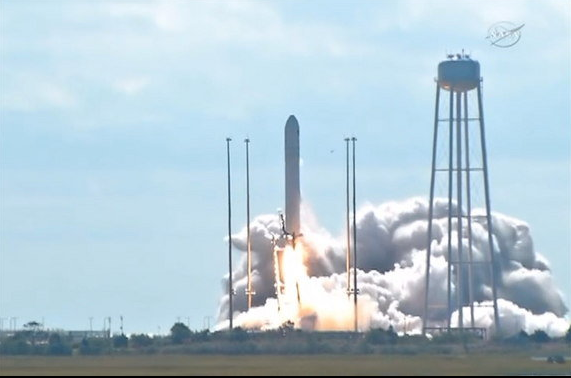 [SatNews] The Company will provide seven more pressurized cargo modules, which will ferry crew supplies, spare parts and scientific experiments to the International Space Station.
Thales Alenia Space has delivered its second Pressurized Cargo Module (PCM) to Orbital Sciences Corporation (NYSE: ORB) for integration in the Cygnus spacecraft that will transport cargo to the International Space Station (ISS).
The module was shipped from Thales Alenia Space's plant in Turin, Italy to the NASA launch facility on Wallops Island in Virginia, where Orbital will integrate it with the Service Module to form the Cygnus spacecraft that will carry out the first operational resupply mission. The demonstration mission, with a Cygnus spacecraft using the first PCM unit delivered by Thales Alenia Space in 2011, is scheduled for launch this coming September by Orbital's Antares launch vehicle.
Thales Alenia Space will provide Orbital with seven more pressurized cargo modules, which will ferry crew supplies, spare parts and scientific experiments to the International Space Station. The company is providing a total of nine units under the Commercial Resupply Service (CRS) contract awarded to Orbital by NASA.
Statement from Orbital Sciences
(Dulles, VA 18 September 2013) – Orbital Sciences Corporation (NYSE: ORB), one of the world's leading space technology companies, today announced that it successfully launched its Antares rocket carrying the company's Cygnus cargo logistics spacecraft into its intended orbit.  The successful launch marked the beginning of a four-day in-orbit capabilities demonstration mission that will culminate in rendezvous and berthing with the International Space Station (ISS) on September 22.  Cygnus will deliver approximately 1,500 lbs. of cargo and remain attached to the ISS for 30 days before departing with up to 1,750 lbs. of disposal cargo. 
Lift-off of Orbital's Antares rocket occurred at approximately 10:58 a.m. EDT from the Mid-Atlantic Regional Spaceport (MARS) located at NASA's Wallops Flight Facility in eastern Virginia. Following a 10-minute ascent, the Cygnus spacecraft was successfully deployed by the Antares upper stage and placed into its intended orbit of about 180 x 160 miles above the Earth, inclined at 51.6 degrees to the equator. Approximately 20 minutes later, Orbital's Cygnus engineers confirmed that reliable communications had been established and that the solar arrays were fully deployed, providing the necessary electrical power to command the spacecraft.    
"We are very pleased with the early operations of the COTS demonstration mission, beginning with another on-the-mark launch by Antares. The Cygnus spacecraft appears to be fully healthy and operating as expected during this early phase of its mission," said Mr. David W. Thompson, Orbital's President and Chief Executive Officer. "Over the next few days, our Cygnus team, together with our NASA partners, will conduct an extensive series of in-orbit tests to verify the performance of the spacecraft before attempting the rendezvous and berthing operations with the space station.  There is clearly still a lot of work in front of us, but the mission looks like it is off to a great start."
This demonstration flight is the final milestone in Orbital's Commercial Orbital Transportation Services (COTS) joint research and development initiative with NASA.  Under COTS, NASA and Orbital developed Cygnus, which meets the stringent human-rated safety requirements for ISS operations. Orbital privately developed the Antares launch vehicle to provide low-cost, reliable access to space for medium-class payloads. Together, these elements are being used for the demonstration flight of Orbital's commercial resupply capability to the ISS.
Pending the successful completion of the COTS program, Orbital will begin regularly scheduled cargo delivery missions to the ISS under the $1.9 billion Commercial Resupply Services (CRS) contract with NASA.  Under the CRS contract, Orbital will deliver approximately 20,000 kilograms of cargo to the ISS over eight missions through 2016.  For these missions, NASA will manifest a variety of essential items based on ISS program needs, including food, clothing, crew supplies, spare parts and equipment, and scientific experiments.
End Of Orbital Statement
The PCM unit delivered today will be followed by two more units in the standard configuration, capable of transporting up to 2,000 kg of cargo, and by five enhanced units, offering cargo capacity of up to 2,700 kg.
The Cygnus™ spacecraft comprises a Service Module (SM) from Orbital, and the Pressurized Cargo Module (PCM) developed by Thales Alenia Space. Building on 30 years of experience in space infrastructures and transportation systems, the Cygnus PCM developed by Thales Alenia Space calls on the company's skills and expertise developed through previous programs for the International Space Station, such as the MPLM (Multipurpose Logistics Module), built by the company on behalf of the Italian space agency for NASA, and the ATV (Automated Transfer Vehicle) Cargo Carrier, built by Thales Alenia Space for the European Space Agency (ESA). Thales Alenia Space supplies half of the International Space Station's pressurized volume, as prime contractor for the Station's Node 2, Node 3 and Cupola, and is a key player in the Columbus laboratory.
Statement From ATK
ATK's CASTOR® 30 Motor Supports Launch of Antares™ COTS Demonstration Mission to International Space Station
ARLINGTON, Va., Sept. 18, 2013 /PRNewswire/ -- ATK's (NYSE: ATK) CASTOR® 30 upper stage solid rocket motor supported the successful cargo demonstration launch of Orbital Sciences Corporation's (NYSE: ORB) Antares™ rocket as it lifted off from NASA's Wallops Flight Facility in Virginia today at 10:58 a.m. EDT. This demonstration flight to the International Space Station (ISS) is the final milestone in Orbital's Commercial Orbital Transportation Services (COTS) joint development effort with NASA before Orbital begins regular cargo resupply missions to the orbiting laboratory through NASA's Commercial Resupply Services (CRS) contract.
"This launch prepares the way for Orbital to begin supplying the ISS on regularly scheduled flights and we congratulate our customer on another success," said Scott Lehr, vice president and general manager of ATK's Defense and Commercial division. "We are excited to be a part of Orbital's Antares team as they undertake future missions for the NASA CRS program."
ATK's commercial CASTOR 30 motor was developed in response to a market need for a large-diameter upper stage motor, low-cost option. It has the flexibility to serve markets as diverse as space launch, prompt global strike and operationally responsive space. In support of today's launch, the motor fired for approximately 153 seconds and produced 73,000 pounds of maximum thrust to loft the Cygnus spacecraft carrying 1,611 pounds of cargo into the proper orbit. This is the last of the baseline CASTOR 30 motors, as all future flights will utilize the enhanced CASTOR 30B or CASTOR 30XL motors, increasing payload capability for the vehicle.
Orbital developed Antares and the Cygnus cargo spacecraft under NASA's COTS program. NASA initiatives like COTS are helping develop a robust U.S. commercial space transportation industry, with the goal of achieving safe, reliable and cost-effective transportation to and from the International Space Station and low-Earth orbit.
ATK is an aerospace, defense, and commercial products company with operations in 21 states, Puerto Rico, and internationally. News and information can be found on the Internet at www.atk.com, on Facebook at www.facebook.com/atk, or on Twitter @ATK.
End of Statement from ATK
Thales Alenia Space is a joint venture between Thales (67 percent) and Finmeccanica (33 percent). Thales Alenia Space and Telespazio embody the two groups' "Space Alliance". Thales Alenia Space sets the global standard in solutions for space telecommunications, radar and optical Earth observation, defense and security, navigation and science. With consolidated revenues of 2.1 billion Euros in 2012, Thales Alenia Space has 7,500 employees in France, Italy, Spain, Germany, Belgium and United States.
Remember When The Project First Began...July 7, 2011
KENNEDY SPACE CENTER, Florida – The Orion Multi-Purpose Crew Vehicle (MPCV) is being pursued as the way to explore beyond low Earth orbit—back to the Moon, out to asteroids, and eventually to Mars.
Regarding the decision to press ahead with Orion, Lori Garver, NASA deputy administrator, said that the space agency looked at the alignment for their needs and pressing forward on a vast new exploration program.
The Orion MPCV is the nation's next generation spacecraft for future exploration throughout our solar system and is being built by Lockheed Martin.
NASA's Garver said the space agency will work with international partners as humans go beyond low Earth orbit…to near Earth objects and Mars. "We will be doing that with international partners," she said.
Pathfinder testing
Mark Geyer, Lockheed Martin's Multi-Purpose Crew Vehicle program manager, underscored the 2010 test of the Orion launch abort system. The first crew module – a pathfinder spacecraft — is being readied for extensive vibration and environmental tests. Furthermore, Orion's avionics, power, its communications hardware are now under assembly, with the software in testing as well.
"We have been leveraging all the lessons learned," from Apollo and the space shuttle program, said Laurence Price, Orion deputy program manager for Lockheed Martin Space Systems Company.
When questioned about how the taxpayer feels about spending money to explore beyond Earth orbit, NASA's Garver emphasized: "All this money is spent here on Earth – every penny" to jobs in the country…to help in the country's economic growth. "Great nations explore," the NASA official added, and the space agency can't wait to beyond low Earth orbit.
State of the art spacecraft
The state-of-the art Orion is designed to carry a crew of up to six astronauts, with an emergency contingency capability for up to eight.
The Lockheed Martin Orion Team is focused on providing NASA the opportunity to conduct space exploration missions by 2016.
According to Lockheed Martin's Geyer and Price, the first crew module is now in preparation for rigorous testing in space-like environments starting at month's end. These tests will take place at the company's Waterton Facility near Denver, Colorado.