What happens when a robot that can help remove bombs or examine suspicious items is too large to fit into a particular sized space? BOOM? Or worse?Announcements from many companies at DSEI 2019 in London have been in the news, and a very important new product was released that can save lives. A demonstration of the capabilities of this and a hands-on reenactment of the prototype robot can be seen at stand #S-7 310, during DSEI 2019, September 10-13 in London.​
L3Harris Technologies (NYSE:LHX) has introduced a new medium-sized robot that can fit where larger robots can't making it ideal for security operations in urban and space-constrained environments such as hazardous material (HAZMAT) cleanup, explosive ordnance disposal (EOD) and special weapons and tactics (SWAT) missions. This smaller, lighter T4™ provides same ruggedness as company's larger, military-grade T7™ robot.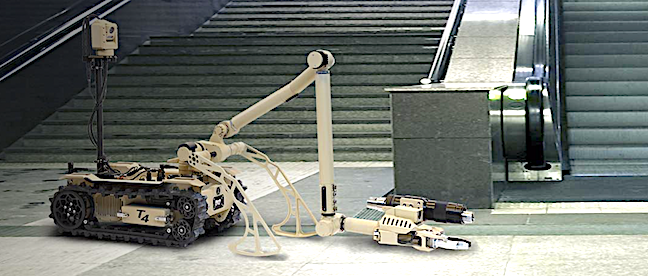 L3Harris' robot provides operators with human-like dexterity and haptic force feedback from the robot arm to the remote-control handgrip — a first-of-its-kind capability for a medium-sized robot. This built-in precision control and dexterity shortens the time it takes for the tasks completion and improves mission effectiveness. A rugged track system provides outstanding mobility and maneuverability required for small spaces, which uniquely positions T4 for security and police forces worldwide.
The T4 robotic system provides operators with unmatched capabilities in a compact, rugged package. Its integrated controller interface provides ease-of-use for operators and unmatched command and control. A variety of attachments enable use of standard-issue sensors, disruptors and tools that support a wide range of missions, including the ability to disable and defeat improvised explosive devices (IEDs) in urban environments inside tight spaces, such as automobiles, buses, trains and aircraft.
Ed Zoiss, President, L3Harris Space and Airborne Systems said that T4 brings life-saving technology to the medium-sized robotics market and reaffirms the importance of highly reliable, precise and easy-to-use systems for security forces worldwide. T4 combines strength, reach, intuitive control and robustness to deliver uncompromized performance anywhere — even in the most challenging urban environments.
L3Harris has approximately 2,000 employees in 21 locations throughout the U.K., supporting a variety of government and commercial programs for more than 100 years. The division of the company, L3Harris' Space and Airborne Systems segment, provides space payloads, sensors and full-mission solutions; classified intelligence and cyber defense; avionics; and electronic warfare solutions. Also, L3Harris Technologies, a global aerospace and defense technology innovator provides defense and commercial technologies across air, land, sea, space and cyber domains. L3Harris has approximately $17 billion in annual revenue and 50,000 employees, with customers in 130 countries.