The third and final European Earth-observation, meteorological satellite, MetOp-C, soared on a Russian Soyuz ST-B rocket from Arianespace's facility in French Guiana on November 6, 2018, at 9:47:27 p.m. local time (or 7:47 p.m. EST). By launching the complete Metop fleet, Arianespace once again supports EUMETSAT and Europe in the improvement of global climate monitoring and weather forecasting.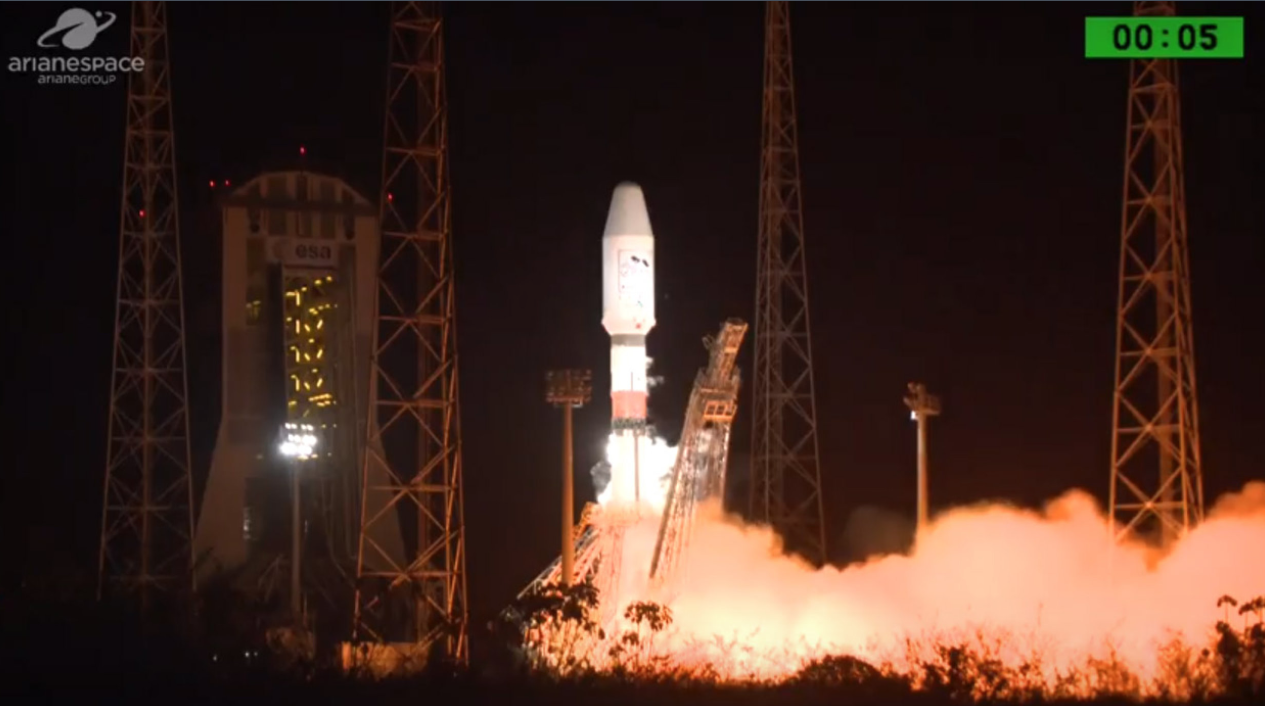 MetOp-C's mission is to improve weather forecasts and monitor changing climates around the globe.
"It was a superb launch, and everything went like clockwork," an Arianespace commentator said during a live webcast of today's launch.
This was good news for Russia which is still dealing with the October 11 failure of a crew launch to the International Space Station on a Russian version of the Soyuz rocket. The astronauts, NASA's Nick Hague and Russian cosmonaut Alexey Ovchinin, were unharmed and brought back to Earth in the in-flight abort mode after a turbulent ride.

Airbus' statement reflected the euphoria of the completion of the fleet by saying, " All good things come in threes: MetOp-C successfully launched"
Built by Airbus, MetOp-C is the last of the first generation of EUMETSAT Polar System (EPS) series of three polar-orbiting satellites. MetOp-C is joining its predecessors MetOp-A and -B in a 817 kilometer orbit. Both predecessors have exceeded their designated lifetime by far. The MetOpprogramme has made the biggest positive impact on improving the accuracy of weather forecasts from 12 hours to 10 days ahead.
The MetOp satellites have been developed by Airbus for the European Space Agency (ESA) and EUMETSAT, the European Organisation for the Exploitation of Meteorological Satellites, and are part of a joint Europe-US cooperation.
Nicolas Chamussy, Head of Space Systems at Airbus, said, "Initially, the plan was for each satellite to replace its predecessor, however, the excellent performance of the first two MetOp satellites allowed a dual operation of MetOp-A and -B with a significant contribution to the reduction of Day-1 forecasting errors. It is expected that this trend will continue with the third spacecraft now in orbit."
Each MetOp satellite carries a total of 12 instruments (10 for MetOp-C), making the system extremely versatile. Two of the instruments have been built by Airbus: the Microwave Humidity Sounder (MHS) and the Advanced Scatterometer (ASCAT). The MHS measures water vapour near the Earth's surface, and as well as flying on the MetOp spacecraft, two additional microwave humidity sounders are already flying on US NOAA satellites, delivering matching data from a different orbit to enhance weather models.
The other Airbus-built instrument, the "Advanced Scatterometer" (ASCAT) is an active radar instrument which measures wind speed and direction over the open sea. It also provides data for ice and snow coverage as well as surface moisture. ASCAT will scan two 500 kilometre wide corridors and can, therefore, provide almost global coverage within 24 hours.
MetOp also monitors the ozone layer in the stratosphere, as well as relaying meteorological measurements collected by boats, buoys and research stations. MetOp-A and -B also feature a receiver to relay signals sent by people in distress.
In addition, to the expected benefits on weather forecasting, MetOp-C will continue the time series of data begun by MetOp-A, and this long-term dataset is crucial for climate monitoring.
Under development at Airbus, the MetOp-SG (second generation) spacecraft will provide continuity and enhancement of meteorological data with improved spectral and spatial resolution compared to the measurements currently provided by the first generation of MetOp satellites. A complete range of observations will be realized using 10 different instruments, covering ultra-violet, visible, infrared and microwave spectral bands.
From 2021 onwards, MetOp-SG will further increase the benefits of accurate weather prediction based on state-of-the-art European technologies and keep contributing to socio-economic benefits worth several billion Euros year for European citizens.

EUMETSAT's comments
Metop-C is the last in a series of three polar-orbiting satellites, developed in cooperation with ESA, which provides vital observations for weather forecasts up to 10 days ahead, as part of the EUMETSAT Polar System (EPS).
Metop-C carries nine instruments measuring mainly vertical profiles of temperature and humidity, cloud properties, atmospheric composition, sea surface temperature, wind at the ocean surface, sea ice parameters, vegetation parameters and soil moisture.
With the Metop-A and -B satellites still performing well in orbit beyond their design lifetime, the EUMETSAT EPS system is already providing the source of data that has the highest positive impact on global numerical weather prediction, in terms of reducing forecast errors one day ahead. In addition, EPS supports operational oceanography, marine meteorology, air quality forecasting and climate monitoring.
Forming a three-satellite constellation with Metop-A and-B until Metop-A is re-orbited in 2022, Metop-C will further improve weather forecasts up to 10 days ahead for the benefit of European citizens and our economy.
Alain Ratier, Eumetsat's Director General, said, "EUMETSAT is grateful to Arianespace for another successful launch, after those of Metop-A and Metop-B. It is now up to us to commission the satellite and instruments in partnership with ESA, CNES and NOAA, until the end of January. After this, our scientists will work with expert users to validate the output products, and bring the service to users to operational status in early spring 2019.
"Our EPS system and its Metop satellites equipped with innovative European instruments has brought meteorological observation from the polar orbit to a new standard, and this is another success of our cooperation with ESA.
"Through its positive impact on weather forecasts, EPS already produces socio-economic benefits of at least 5 billion euros per year in Europe, and we will do even better with a third satellite in operation.

"Metop-C also secures the transition with the EPS-SG system we are developing in cooperation with ESA, to launch a first Metop Second Generation satellite at the end of 2022."
Josef Aschbacher, ESA's Director of Earth Observation Programmes, said, "Metop is Europe's first series of polar-orbiting weather satellites designed and developed by ESA to fulfil EUMETSAT requirements. The launch of Metop-C is another achievement of the excellent cooperation between ESA and EUMETSAT, which now continues with the development of polar-orbiting Metop Second Generation satellites as well as geostationary Meteosat Third Generation satellites.

Arianespace's comments
Weather forecasts around the globe will be more accurate thanks to Arianespace's latest Soyuz success from the Spaceport in French Guiana – which launched the third and final spacecraft in EUMETSAT's current-generation polar-orbiting weather satellite program.
Lifting off at 9:47:27 p.m. local time – which was the planned precise moment of launch – the Russian-built medium-lift vehicle deployed its Metop-C passenger into a sun-synchronous "mid-morning" polar orbit during a one-hour flight sequence. Total payload lift performance was estimated at 4,212 kg.
Good visibility at the Spaceport enabled the facility's tracking cameras – and the worldwide audience watching via Arianespace's live video broadcast – to follow the Soyuz' flight trajectory downrange for more than five minutes, which included the first-stage boosters' separation.
Tonight's success – designated Flight VS19 – was the 45th Soyuz mission operated by Arianespace and its Starsem European-Russian joint venture. Of this total, 19 originated from the Spaceport in French Guiana – which introduced its Soyuz operations in 2011 – while 26 were performed from Kazakhstan-based Baikonur Cosmodrome between 1999 and 2013.
Supporting a better life on Earth
Built by Airbus Defence and Space, Metop-C continues the European meteorological operational program of polar-orbiting spacecraft operated by the European Organisation for the Exploitation of Meteorological Satellites (EUMETSAT). The first two satellites – Metop-A and Metop-B – were launched on Soyuz vehicles from Baikonour Cosmodrome in 2006 and 2012, respectively, by Starsem.
"It's a big year for Arianespace: with Metop-C, we are proud to have delivered once again for our European customers and for European institutions," said Arianespace CEO Stéphane Israël, speaking from a viewing event held at EUTELSAT's Darmstadt, Germany headquarters. "And one more time, we have an illustration of how space delivers for the huge challenges of the 21st century – which are climate and environment."
Israël acknowledged those who contributed to this latest Arianespace success, including the Russian federal space agency, Roscosmos, and the country's industrial partners; along with the European support companies and the French CNES space agency.
"Let me also pay tribute to my Arianespace colleagues," he added. "We have a wonderful team of people in Arianespace who are inspired by what they're doing. To be honest, I think that one of the most beautiful jobs on Earth is to go to space!"
Joining Stéphane Israël in Darmstadt was EUMETSAT Director General Alain Ratier, who declared his agency is a "happy Arianespace customer" following this latest Metop satellite launch success, while underscoring the importance of Metop-C in the continuity of EUMETSAT's weather forecasting services.
Looking forward to continued cooperation
Metop spacecraft are essential for numerical weather prediction from 12 hours to 10 days in advance, and carry state-of-the-art instruments to measure a wide range of variables – such as temperature and humidity, wind speed and direction over oceans, ozone and other atmospheric gases.
The still-operational Metop-A and Metop-B satellites make the largest single contribution to reducing errors in weather forecasts one day in advance, with Metop-C expected to enhance this performance upon its own service entry. Following the deployment by Soyuz, Metop-C is to undergo approximately six weeks of commissioning, during which the proper operation of the spacecraft and its instrumentation will be verified.
After tonight's success, Arianespace has four more EUMETSAT spacecraft in its backlog for future launches: MTG-I1 and MTG-S1, the European organization's next generation of geostationary satellites; along with the polar-orbiting MetopSG-A1 and MetopSG-B1, which are to succeed Metop-A, -B and -C in delivering meteorological data.
Metop-C is the 122nd satellite built by Airbus Defence and Space to be orbited on an Arianespace mission, with 21 more Airbus-produced spacecraft in the company's order book for future launches.
A busy end-of-year for Arianespace
Flight VS19 was Arianespace's second Soyuz mission in 2018, and the eighth this year using a member of the company's three-member launcher family – which also includes the heavy-lift Ariane 5 and lightweight Vega.
In his concluding comments from Darmstadt, Arianespace's Stéphane Israël highlighted the company's impressive tempo at the Spaceport in French Guiana, as three more launches are planned before year-end. These will be composed of a Vega mission on November 20 to deliver an Earth observation satellite, with an Ariane 5 liftoff and a Soyuz flight to follow during the subsequent weeks.
"This means that since October, we will have delivered five launches in approximately two months – which is quite impressive," he stated.