Technavio analysts have published their forecast that reveals the global satellite-based Earth Observation (EO) market to grow at a CAGR of around 14 percent during the period 2018-2022 — however, the growth momentum of the market is expected to decelerate due to a decline in the year-over-year growth.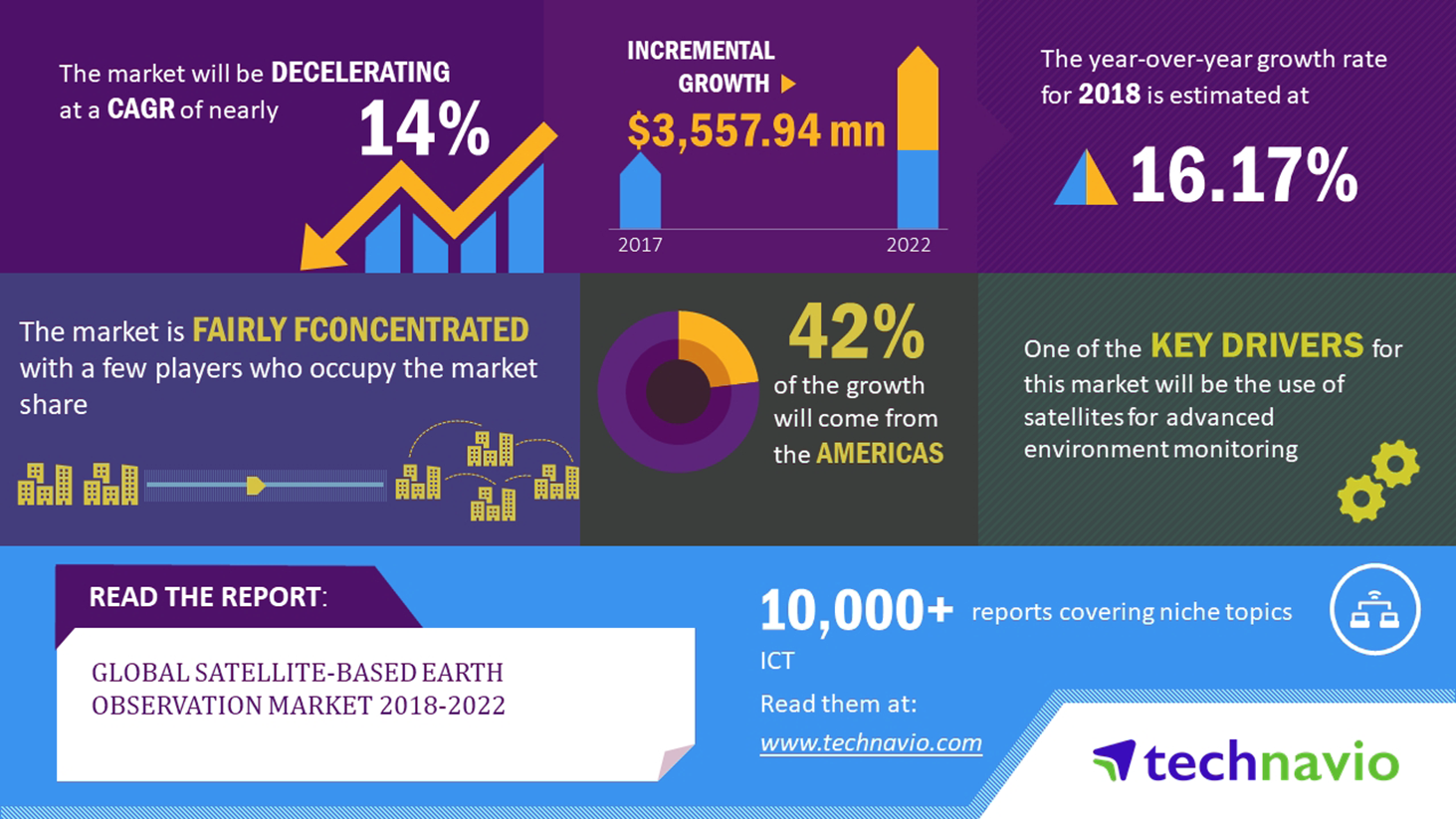 The growing demand for smallsats is one of the major trends being witnessed in the global satellite-based EO market. The number of smallsats being launched into orbit has witnessed a significant increase in the past decade. The small size of these satellites is accompanied by their low cost and low capital investment that are the key factors driving their demand across various applications.
In this report, Technavio analysts highlight the use of satellites for advanced environment monitoring as a key factor contributing to the growth of the global satellite-based EO market:
Global satellite-based earth observation market: Use of satellites for advanced environment monitoring
Satellites are used for environmental monitoring because of their ability to monitor the macroscopic environment, hidden features, and short-term and long-term weather events that cannot be discerned through ground-based observation alone. Observation satellites can provide real-time, round-the-clock information on atmospheric features and occurrences that are vital for accurate weather forecasting, including temperature, wind, and weather patterns.
According to a senior analyst at Technavio for Machine-to-Machine (M2M) and connected devices, the use of satellites for advanced environmental condition monitoring is now gaining prominence with applications such as greenhouse gas emissions, changes in polar ice, deforestation, observation of wildfires, and coral bleaching. Advances in sensing and imaging technologies in the past decade have led to the development of superior satellites for environmental monitoring.
Global satellite-based EO market — defense segment leads the market
This market research report segments the global satellite-based EOn market by application (defense, weather, LBS, energy, agriculture, mining, insurance, disaster management, transport and logistics, living resources, and telecommunication and utilities), type (VAS and data), and geography (the Americas, APAC, and EMEA). The report provides an in-depth analysis of the prominent factors influencing the market, including drivers, opportunities, trends, and industry-specific challenges.
Among the application segments, the defense segment held the largest market share in 2017, contributing to nearly 35% of the market. The market share occupied by this segment is expected to decrease by almost 5 percent by 2022. However, this application segment will dominate the global market throughout the forecast period.
The Americas was the leading region for the global satellite-based earth observation market in 2017 and accounted for a market share of approximately 51 percent. It was followed by EMEA and APAC. APAC is expected to project the fastest growth during the period 2018-2022.
Technavio's sample reports are free of charge and contain multiple sections of the report such as the market size and forecast, drivers, challenges, trends, and more. To obtain a sample report, please access this direct link...