[SatNews] Step one is approved and complete, and now the company awaits the shareholders' verdict.
The Supervisory Board of OHB AG has approved the Management Board's resolution to convert the company into a Societas Europaea (SE). This requires the approval of the shareholders at the annual general meeting which will be taking place on July 2, 2014 in Bremen. The Company's registered offices and headquarters will continue being in Bremen.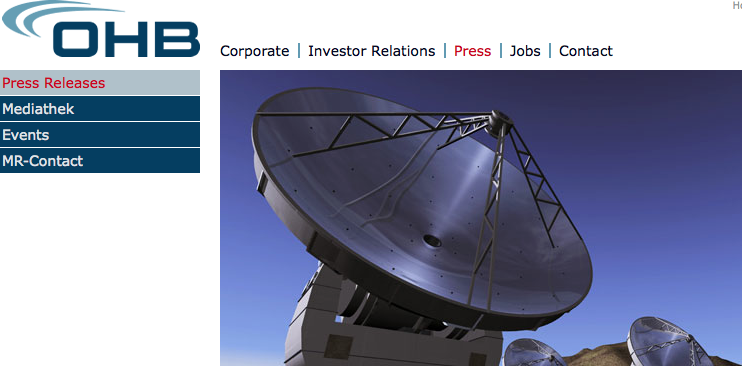 Upon the conversion into an SE, the previous shareholders of the OHB AG will automatically become shareholders in the OHB SE; accordingly, there will be no change in status of the shareholders. The invitation to the annual general meeting will include detailed information on the planned conversion.
By adopting SE status, OHB is responding to the growing Europeanization of space industry and the Group's increasing intercultural structure. The change of corporate status will permit more uniform and clearer governance and promote an open and European corporate culture. At the same time, it will be easier for the future OHB SE to establish new branches within the European Union.
Conversion into an SE is to be completed by spring 2015
An SE may be created on registration in any one of the Member States of the European Economic Area (EEA). Article 10 of the Regulation requires Member States to treat an SE as if it is a public limited company formed in accordance with the law of the Member State in which it has its registered office.
The legal form of the European Company, or Societas Europaea (SE), was created by the European Council on October 8, 2001. It became subject to Community law in all EU member states on October 8, 2004, over 30 years after negotiations for the creation of a European company were initiated.
According to the EU, the objective of the Statute for a European company is "to create a European company with its own legislative framework. This will allow companies incorporated in different Member States to merge or form a holding company or joint subsidiary, while avoiding the legal and practical constraints arising from the existence of fifteen different legal systems. To arrange for the involvement of employees in the European company and recognise their place and role in the company."