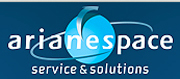 [SatNews] The two satellite passengers for Arianespace's third Ariane 5 mission in 2015 are advancing through their pre-flight preparations, with MSG-4 and Star One C4 each completing separate fit-check processes during activity at the Spaceport in French Guiana.
Performed at the Spaceport's S5 facility, the fit-check is a regular preparation step for Ariane 5 missions - during which a payload makes its initial contact with launcher hardware. With this work completed for MSG-4 and Star One C4, both are ready for their fueling and subsequent integration on the launch vehicle. The satellites will be orbited on an Ariane 5 mission planned for July, which is designated Flight VA224 as the 224th Ariane-series launch to date. It will continue Arianespace's busy schedule in 2015, during which the company is targeting 11 missions in total—based on the availability of payloads—using its full family of the heavy-lift Ariane 5, medium-lift Soyuz and lightweight Vega vehicles.
MSG-4, which was built for Eumetsat by a Thales Alenia Space-led European consortium, will join four other Meteosat-series meteorological platforms that currently are operational in geostationary orbit at 36,000 km. above the equator. After launch, MSG-4 is to be stored in orbit, ultimately being named Meteosat-11. When operational, it will bridge the gap between Meteosat-10 - launched in 2012 by Arianespace - and the initial Meteosat Third Generation spacecraft, which are scheduled to be orbited in 2019 and 2021.
The Star One C4 co-passenger was produced by SSL (Space Systems/Loral), and is a part of the third generation of Embratel Star One satellites, which ensure the continuity of telephone, television, radio, data transmission and Internet services in Brazil, in addition to expanding these services to Latin American countries and mainland United States. Star One C4 ultimately will be co-located with the Star One C2 spacecraft at an orbital slot of 70 degrees West, which is considered a "hot" position for transmitting the signals of major television stations in Brazil.