[SatNews] Everything is progressing toward the AFSPC-5 launch for the United States Air Force. The mission is set to liftoff on a ULA Atlas V rocket on Wednesday, May 20 from Space Launch Complex 41 at Cape Canaveral Air Force Station in Florida.
Today's L-1 forecast remains the same, and shows a 60 percent chance of favorable weather conditions for launch. The launch period is 10:45 a.m. - 2:45 p.m. Eastern.
Launch Forecast Summary:
Overall probability of violating weather constraints: 40 percent
Primary concern(s): Cumulus Clouds, Surface Electric Fields, Anvil Clouds, Lightning
Overall probability of violating weather constraints for 24 hour delay: 70 percent
Primary concern(s): Cumulus Clouds, Surface Electric Fields, Anvil Clouds, Lightning
The Atlas V AFSPC-5 mission overview video is posted here.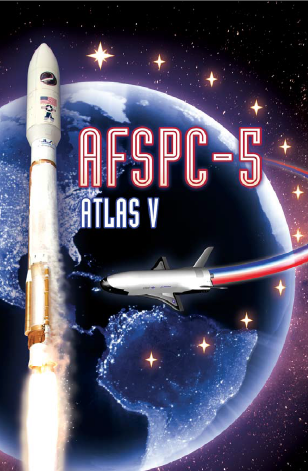 ATLAS V AFSPC-5 MISSIONThe X-37B Orbital Test Vehicle, or OTV, is an experimental test program to demonstrate technologies for a reliable, reusable, unmanned space test platform for the U.S. Air Force. The primary objectives of the X-37B are twofold: reusable spacecraft technologies for America's future in space and operating experiments which can be returned to, and examined, on Earth.
The X-37B Orbital Test Vehicle is the newest and most advanced re-entry spacecraft. Based on NASA's X-37 design, the unmanned OTV is designed for vertical launch to low Earth orbit altitudes where it can perform long duration space technology experimentation and testing. Upon command from the ground, the OTV autonomously re-enters the atmosphere, descends and lands horizontally on a runway. The X-37B is the first vehicle since NASA's shuttle orbiter with the ability to return experiments to Earth for further inspection and analysis, however the X-37B can stay in space for much longer.
Technologies being tested in the program include advanced guidance, navigation and control, thermal protection systems, avionics, high temperature structures and seals, conformal reusable insulation, lightweight electromechanical fl ight systems, and autonomous orbital flight, reentry and landing.
The Atlas V vehicle will also launch an Aft Bulkhead Carrier (ABC) containing eight P-Pods will release 10 CubeSats. Following primary spacecraft separation the Centaur will changealtitude and inclination in order to release the CubeSat spacecraft which are sponsored by the
National Reconnaissance Offi ce (NRO) and the National Aeronautics and Space Administration
(NASA). The ten CubeSats were developed by the U.S. Naval Academy, the Aerospace
Corporation, the Air Force Research Laboratory, California Polytechnic State University, and Planetary Society.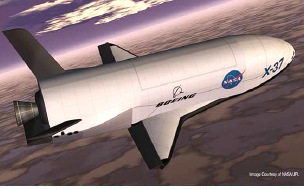 – 5th Atlas V 501
– 54th Atlas V Launch
– 96th ULA Launch
The ULA team is proud to be the launch provider for the U.S. Air Force (USAF) Rapid Capabilities Office (RCO) by delivering the Air Force Space Command 5 (AFSPC-5) satellite aboard the Atlas V 501. The launch of this mission culminates many months of teamwork between the Air Force Space and Missile System Center (SMC) Launch Systems Directorate (LR), Boeing, ULA and the RCO.
ULA is also pleased to launch the third Aft Bulkhead Carrier on an Atlas V Evolved Expendable Launch Vehicle (EELV) which contains 10 CubeSats managed by the NRO and NASA. The ULA team is focused on attaining Perfect Product Delivery for the AFSPC-5 mission, which includes a relentless focus on mission success (the perfect product) and also excellence and continuous improvement in meeting all of the needs of our customers (the perfect delivery).
My thanks to the entire ULA team and our mission partners for their hard work and commitment to mission success and to SMC/LR and the RCO for selecting ULA to launch this important mission.
Go Atlas, Go Centaur, Go AFSPC-5! Jim Sponnick Vice President, Atlas and Delta Programs
With more than a century of combined heritage, United Launch Alliance is the nation's most experienced and reliable launch service provider. ULA has successfully delivered more than 90 satellites to orbit that provide critical capabilities for troops in the fi eld, aid meteorologists in tracking severe weather, enable personal device-based GPS navigation and unlock the mysteries of our solar system.
ULALaunch.com Payload Fairing (PLF)
The AFSPC-5 satellite is encapsulated in a 5-m (14-ft) diameter medium payload fairing.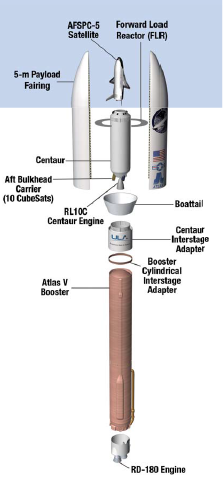 The 5-m PLF is a sandwich composite structure made with a vented aluminum-honeycomb core and graphite-epoxy face sheets. The bisector (two-piece shell) PLF encapsulates both the Centaur and the satellite. The vehicle's height with the 5-m medium PLF is approximately 206 ft.
Centaur
The Centaur second stage is 10 ft in diameter and 41.5 ft in length. Its propellant tanks are constructed of pressure-stabilized, corrosion resistant stainless steel. Centaur is a cryogenic vehicle, fueled with liquid hydrogen and liquid oxygen. It uses a single RL10C-1 engine producing 22,900 lb of thrust. The cryogenic tanks are insulated with a combination of helium-purged insulation blankets, radiation shields, and spray-on foam insulation (SOFI).
The Centaur forward adapter (CFA) provides the structural mountings for the fault-tolerant avionics system and the structural and electrical interfaces with the spacecraft.
Booster
The Atlas V booster is 12.5 ft in diameter and 106.5 ft in length. The booster's tanks are structurally rigid and constructed of isogrid aluminum barrels, spun-formed aluminum domes, and intertank skirts. Atlas booster propulsion is provided by the RD-180 engine system (a single engine with two thrust chambers). The RD-180 burns RP-1 (Rocket Propellant-1 or highly purified kerosene) and liquid oxygen, and delivers 860,200 lb of thrust at sea level. The Atlas V booster is controlled by the Centaur avionics system, which provides guidance, flight control, and vehicle sequencing functions during the booster andCentaur phases of flight.
SATELLITE: SES 2
TRANSPONDER: 21
BAND: C-Band Digital
ORBITAL POSITION: 87 degrees west
CARRIER: SES Americom
HD BANDWIDTH: 18 MHz (half transponder 'AB')
DOWNLINK FREQ: 4111 MHz (Horizontal)
UPLINK FREQ: 6336 MHz (Vertical)
SYMBOL RATE: 13
FEC: ¾
DATA RATE: 17.9705
DVBS-QPSK
MPEG-2
AUDIO EMBEDDED
Web cast available at http://www.ulalaunch.com