[SatNews] For more than 15 years, a $518-million military weather satellite sat in a clean room at Lockheed Martin Corp.'s facility in Sunnyvale waiting for the day it would be launched into orbit from Vandenberg Air Force Base. Today the spacecraft blasted into space atop the Atlas V rocket.
This is the latest satellite launched in support of the military's long-running Defense Meteorological Satellite Program, a satellite system initiated in 1962. Since then, the program has enabled military officers to detect developing storms and alert communities of the danger headed their way.
Statement From ULA
Vandenberg Air Force Base, California5, (April 3, 2014) – A United Launch Alliance (ULA) Atlas V rocket successfully launched the Air Force's Defense Meteorological Satellite Program (DMSP-19) payload at 7:46 a.m. PDT today from Space Launch Complex-3. This is the third mission of 15 scheduled for 2014 and the 80th mission since ULA was formed in December 2006.

"Congratulations to the Air Force and all of our mission partners on this morning's successful launch of DMSP-19! ULA takes tremendous pride in the national capabilities we place on orbit for our customers and in the critical information that satellites such as DMSP provide to military and civilian users worldwide," said Jim Sponnick, ULA vice president, Atlas and Delta Programs. "Achieving on-time launches for our customer's missions with 100 percent mission success is a testament to this strong government and industry team being singularly focused on one launch at a time."

This mission was launched aboard an Atlas V 401 configuration vehicle, which includes a 4-meter diameter payload fairing. The Atlas booster for this mission was powered by the RD AMROSS RD-180 engine, and the Centaur upper stage was powered by a single Aerojet Rocketdyne RL10A-4 engine.

For the past 50 years, the DMSP satellites have fulfilled the military's most critical requirements for global atmospheric, oceanic, terrestrial and space environment information. Through these satellites, military users find, track and forecast weather systems over remote and hostile areas for deployed troops. Additionally, DMSP supports a broad range of civil users with sensing capabilities not provided by U.S. civil and foreign weather satellite systems.

ULA's next launch is the Atlas V NROL-67 mission for the National Reconnaissance Office (NRO), planned for no earlier than April 10 from Space Launch Complex-41 at Cape Canaveral Air Force Station, Florida.

With more than a century of combined heritage, United Launch Alliance is continues as a service provider. ULA has successfully delivered more than 75 satellites to orbit that provide critical capabilities for troops in the field, aid meteorologists in tracking severe weather, enable personal device-based GPS navigation and unlock the mysteries of our solar system. Reliable launch, real-world benefits. For more information on ULA, visit the ULA website at.
Launch Statement From U.S.A.F.'s Space & Missile Systems Center (AFSPC)
The U.S. Air Force successfully launched the 19th Defense Meteorological Satellite Program (DMSP) spacecraft at 7:46 a.m. PDT, April 3, from Vandenberg Air Force Base, Calif. The satellite was carried aboard a United Launch Alliance Atlas V launch vehicle.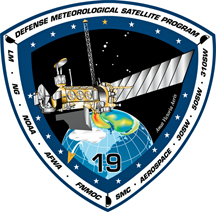 DMSP is the primary provider of terrestrial and space weather information for the U.S. military. DMSP satellites carry sensors vital to weather prediction and space weather forecasting. DMSP sensors provide visible, infrared, microwave and space weather data to enhance information available to the warfighter. The Air Force, in partnership with the National Oceanic and Atmospheric Administration (NOAA), works to continually improve the developing science of weather forecasting. DMSP satellites produce global coverage to provide the military with timely, accurate and continuous weather information.
"The launch of DMSP-19 continues the vital weather support to operational commanders for another decade," stated Colonel Scott Larrimore, director of the Space and Missile Systems Center's Defense Weather Systems Directorate. "Congratulations to a great team, which included the 30th Space Wing, ULA, Lockheed Martin and Northrop Grumman."
The Lockheed Martin-built DMSP-19 satellite will orbit the Earth at an altitude of about 847 km, in a near-polar, sun-synchronous orbit. The satellite hosts two primary sensors, the Operational Linescan System (OLS) and the Special Sensor Microwave Imager Sounder (SSMIS), built by Northrop Grumman. The OLS provides visible and infrared cloud data with each scan covering an area 1800 miles wide. The instrument is able to cover the entire Earth in about 12 hours. The SSMIS detects precipitation, surface temperature and soil moisture as well as provides all-weather capability for worldwide tactical operations and is particularly useful in typing and forecasting severe storm activity. The spacecraft also carries a suite of additional sensors, which collect a broad range of meteorological and space environmental data for forecasting and analysis. DMSP-19 will join the DMSP constellation providing world class space-based terrestrial and space weather data to support U.S. Forces and its allies around the globe.
The Air Force Space Command's Space and Missile Systems Center, located at Los Angeles Air Force Base, Calif., is the U.S. Air Force's center of acquisition excellence for acquiring and developing military space systems. Its portfolio includes GPS, military satellite communications, defense meteorological satellites, space launch and range systems, satellite control networks, space based infrared systems and space situational awareness capabilities.