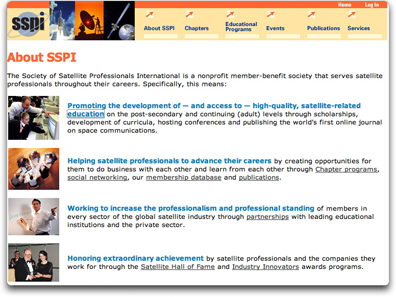 There are some new members on the Board of Directors of the Society of Satellite Professionals International (SSPI).
The election of the new members of its Board of Directors and the appointment of new officers to lead the nonprofit organization took place in January. The election of new Directors to three-year terms on the SSPI Board, include
Chris Stott
,
Managing Director, Mansat
; and
Dianne vanBeber
,
Vice President, Investor Relations and Corporate Communications, Intelsat
.  In addition, several Directors were
re-elected to second terms
, including:
Keith Buckley
,
Managing Director, Blackwater Capital Group
(who serves as SSPI's VP of Sponsorship);
Dom Stasi
,
Chief Technology Officer, TVN Entertainment
; and
Steven Teller
,
President, IOT Systems
(who serves as SSPI's Treasurer).
The Board appointed
Richard P. Wolf
,
Senior Vice President Telecommunications & Network Origination Services, ABC as its Chairman
;
Clayton Mowry
,
President, Arianespace, Inc., as President
, and
Intelsat's
Dianne vanBeber
as
Secretary
.  Mr. Wolf and Mr. Mowry will serve a one-year term, after which Mr. Mowry will succeed to the Chairmanship.
Founded by a small group of visionaries in
1983
, the Society of Satellite Professionals International continues to
fulfill the mission of its founders as a nonprofit society that serves satellite professionals throughout their careers.
The programs of the Society promote the development of and access to high-quality education,
help satellite professionals to advance their careers, work to increase the professionalism and professional standing of members and honor extraordinary achievement by individuals and organizations
.
  "The Board of Directors is an integral part of SSPI's success," said SSPI
Executive Director
Robert Bell
.  "We are fortunate to have such a talented and dedicated team of leaders, who represent so many facets of the satellite industry and share their time and expertise so willingly to benefit our 3,000-plus members around the world." 
  In addition to these Directors and Officers, the members of SSPI's Board include: Paul Beeman, Senior Vice President, Satellite Engineering and Affiliate Relations, FOX Networks Engineering & Operations; Paul Bush, Vice President, Business Development, Telesat; Don Flournoy, Professor, School of Media Arts & Studies, Ohio University (SSPI VP Education); Andreas Georghiou, CEO, Spacenet; Mark Quinn, Senior Vice President, Willis Inspace; Barbara Jaffe, Senior Vice President, Advanced Technology and Operations, Home Box Office; Blair Marshall, Manager, Satellite Services, SES Americom; D.K. Sachdev, President, Space Tel Consultancy LLC (SSPI VP Membership); and Dick Tauber, Vice President, Transmission Systems and New Technology, CNN News Group (SSPI VP Chapters).