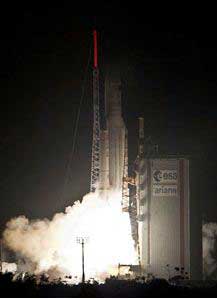 [SatNews] A new year, a new launch and a milestone for Arianespace with another Automated Transfer Vehicle for Europe.
Arianespace began a landmark year of launch activity with an "exceptional" Ariane 5 mission today that orbited the second European Automated Transfer Vehicle (ATV) for servicing of the International Space Station.
Ariane 5 begins its ascent from the Spaceport's ELA-3 launch zone. Lifting off at 6:50 p.m. from the Spaceport in French Guiana, the
Ariane 5 vehicle carried its heaviest payload ever, lofting a total mass of 20,050 kg. – which included 19,700 kg. for the ATV, plus associated integration hardware. More than seven metric tons of payload is loaded on the ATV Johannes Kepler
– including 4,534 kg. of propellant to be used in the International Space Station's attitude control system, and for the facility's altitude re-boost operations.
"This exceptional launch was the
200th for Ariane
, and therefore marks a particularly important step for European space," said Arianespace Chairman & CEO Jean-Yves Le Gall in comments from the Spaceport.  "In addition, it is the second time that Europe contributes to the International Space Station's servicing.  And finally, this is the first of 12 launches Arianespace is targeting this year – nine to be performed from here in French Guiana and three from Baikonur Cosmodrome."
The ATV cargo resupply spacecraft was developed for the European Space Agency by an EADS Astrium-led industry consortium, and has been named after German astronomer and mathematician Johannes Kepler. It is the first operational ATV, following the qualification flight of ATV Jules Verne, which was launched by another Ariane 5 in March 2008.
European Space Agency Director General
Jean-Jacques Dordain
said the Ariane 5's launch was
viewed – and photographed – by the International Space Station's crew as they watched from the facility's Cupola, an observatory module that is equipped with seven windows.
  "We usually see an Ariane launch from the ground, but this time we will have pictures from yet another perspective, in space," he added.