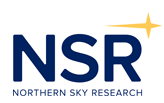 This is described as a 'first ever' study from NSR on High-Altitude Platforms (HAPs) and vehicles flying above controlled airspace and evaluates unmanned aerial vehicles and atmospheric platform capabilities worldwide, including trends and opportunities to help readers better understand the potential future growth in this market.
The report addresses programs and partnerships needed between, or currently established, between government and industry for certifying and operating HAPs, as well as the current and emerging applications and how HAPs compete or complement satellite and UAS.

HAPs addresses the key questions, including:
Who are the main players and what is their development roadmap?
What are the key advantages of HAPs over satellite and UAS?
What are the capabilities of available and upcoming HAPs?
What funding drivers contribute to the progress and delay of the HAPs market?
What are the entry barriers for HAPs providers to overcome?
Which HAPs providers are likely to succeed?
What level of growth is expected and in which HAPs applications?
How many HAPs will be in service in the next ten years?
What will be the revenues generated by HAPs in the coming decade?
How do government regulation progress?
Bottom line: Will HAPs become strong competitors to other platforms and for which applications?