Confidence in this space center's capabilities have resulted in a contract ensuring that at least two satellites will be launched from this location. The companies involved are...
Arianespace and EUMETSAT have signed an agreement in which Arianespace will launch of the first two Metop-SG satellites of the EUMETSAT Polar System of Second Generation (EPS-SG), plus an option for the launch of a third satellite from the Guiana Space Center, known as Europe's Spaceport in Kourou, French Guiana.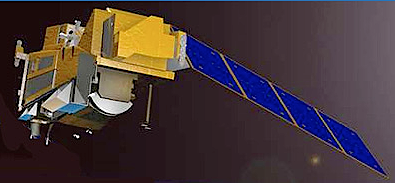 The launches are scheduled in the 2021-2023 timeframe for METOP-SG A1 and METOP-SG B1, with these missions using the same Soyuz STB launcher configuration as for EUMETSAT's Metop-C (the third and last Metop first-generation satellite, which is manifested for launch in autumn 2018).

METOP-SG A1 and METOP-SG B1 will be built by Airbus Defence and Space, based on the AstroBus platform. Each satellite will have a four-ton mass and will be placed into a sun-Synchronous orbit at an altitude of approximately 800 km.
The contract includes an option for a Soyuz launch with a third Metop-SG satellite, for which EUMETSAT is also offered the possibility to use Ariane 62, a version of Europe's next generation Ariane 6 launch system, expected to be available in this timeframe.
The EUMETSAT Polar System of Second Generation will replace the first-generation EUMETSAT Polar System in the 2021-2023 timeframe and deliver more, and even better, observations than the current Metop satellites. With three successive pairs of Metop-SG A and Metop-SG B satellites carrying two different sets of innovative instruments and flying in the same mid-morning polar orbit, EPS-SG is expected to be utilized for at least 21 years by EUMETSAT.
EUMETSAT Director-General Alain Ratier said that the signature of this contract is a key milestone towards the initial deployment of the EPS-SG system, and that they know they can count on the reliability of Soyuz and on Arianespace's services and unique experience in handling complex Earth observation satellites like Metop.
Arianespace Chief Executive Officer Stéphane Israël added that they are proud and honored of the confidence placed by EUMETSAT in Arianespace's launch solutions. Entrusting Arianespace with the initial launches of EUMETSAT's second-generation, advanced meteorological satellites in its EPS-SG series reflects the exceptional nature of their partnership. Not only does it enable Arianespace to continue providing secured and autonomous access to space for European institutions, it also enables them, through this project, to contribute to the sustainable development of the planet, which is one of the greatest challenges of their time.