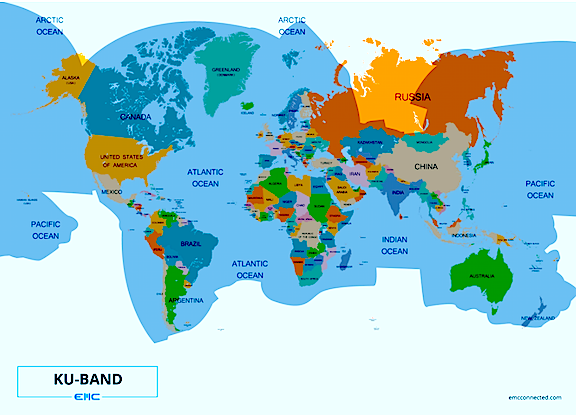 [Satnews] EMC was the fastest-growing global teleport operator in 2015 with an annual growth rate of 97 percent, according to the World Teleport Association (WTA). The WTA ranked the global communications and content provider No. 1 in its annual "Fast Twenty" listing.
This is the second year EMC ranked No. 1 and the ninth year the company made this prestigious WTA list of fastest-growing teleport operators. Among WTA's annual lists of top teleport operators in 2015, EMC also ranked number 3 in the "Independent Top Twenty," and number 9 in the "Global Top Twenty." WTA raised EMC rankings in 2015 in all three categories from 2014.
"These rankings prove EMC is the 'fastest of the fast' in terms of revenue-generation thanks to our expert engineering team, unmatched number of patented technologies, differentiating products in our suite and worldwide technical support," said Abel Avellan, founder and CEO of EMC. "This was a wonderful way to end what was a milestone year for our company. It is a testament to the strength of our unmatched infrastructure, purpose-built to deliver even the most demanding mission-critical communications and content services to organizations and people on the move in the world's most remote locations."
In 2015, EMC acquired MTN to bring together two leading services to work off the single most robust global satellite/terrestrial/cellular broadband platform in the industry. EMC operates 21 fully-meshed multiprotocol label switching (MPLS) interconnected teleports in the U.S., Europe, South America, Africa and Asia. Of these, EMC owns and operates its European Teleport in Raisting, Germany; its U.S. Teleport in Holmdel, N.J.; and its Asia Pacific Teleport in Kapolei, HI. The company's 52 support centers, assisting customers benefitting from more than 20 patented technology solutions, differentiate the EMC experience.
The WTA compiles its rankings by companies' revenue and revenue growth by surveying teleport operators around the world, as well as referencing published results of publicly held companies.
"This ranking validates EMC's excellent position to serve the most demanding global customers, with truly robust communications and content needs, anywhere at sea, on land and in the sky," said John Finney, chief commercial officer (CCO), EMC. "With an intimate understanding of each of our distinct markets, served by our advanced global mobility platform, we look forward to the customer challenges we know we can exceed in 2016."