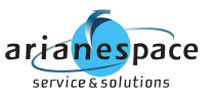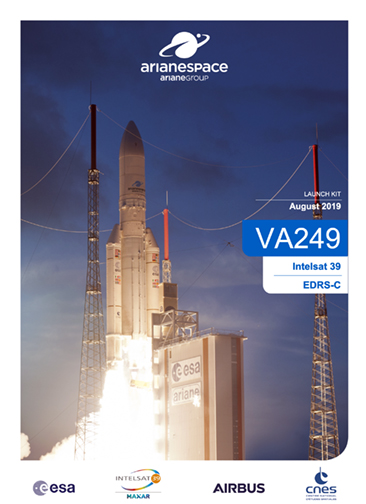 For its third flight with Ariane 5 this year, Arianespace will orbit two telecommunications satellites for long-term customers: Intelsat 39, for the operator Intelsat, and the EDRS-C satellite, based on a public–private partnership between the European Space Agency (ESA) and Airbus.
Through this mission, Arianespace highlights its ability to be at the service of innovative satellite solutions for commercial and institutional needs.
Flight VA248 will be performed from Ariane Launch Complex No. 3 (ELA 3) in Kourou, French Guiana. The liftoff is planned for Tuesday, August 6, 2019, as early as possible within the following launch window:
Between 3:30 p.m. and 5:51 p.m. Washington DC time
Between 4:30 p.m. and 6:51 p.m. Kourou, French Guiana time
Between 19:30 and 21:51: Universal Time (UTC)
Between 9:30 p.m. and 11:51p.m. Paris time
The nominal duration of the mission (from liftoff to separation of the satellites) is 33 minutes, 31 seconds. The targeted, geostationary orbit:
Perigee altitude
250 km.
Apogee altitude
35,786 km.
Inclination
4.5 degrees
The Launch Readiness Review (LRR) will occur on Friday, August 2, 2019, in Kourou to authorize the start of operations for the final countdown.
Intelsat 39 will be the 61st satellite launched by Arianespace for Intelsat since the first mission at its service in 1983. It will replace Intelsat 902 (launched by Arianespace in 2001) at 62 degrees East. The Intelsat 39 telecommunication satellite is designed with both wide and high-powered steerable spot beams to meet the needs of broadband networking, video and government customers across Africa, Asia, Europe, the Middle East and Indian Ocean region. The steerable spot beams provide flexibility within the payload and enable customers to rapidly and efficiently respond to shifts in geographic or application requirements. The satellite features C- and Ku-band capabilities to provide additional scale for Intelsat's Flex managed service and enhance mobile connectivity for aero, maritime and government users operating across these regions. Intelsat 39 was built by Maxar in Palo Alto, California.
The EDRS-C satellite is the second node of the SpaceDataHighway network. The SpaceDataHighway is the world's first "optical fiber" network in the sky based on cutting-edge laser technology. It will help to improve environmental and security monitoring, disaster response and crisis management. To be launched into a geostationary orbit at 31 degrees East, EDRS-C will be able to connect low-orbiting observation satellites via laser at a distance up to 45,000 km., as well as intelligence UAVs or mission aircraft.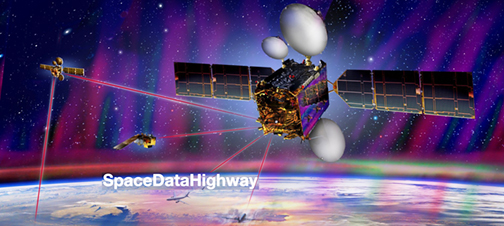 The SpaceDataHighway is a public–private partnership between the European Space Agency (ESA) and Airbus, with the laser terminals developed by Tesat-Spacecom and Germany's DLR Aerospace Center. Airbus owns, operates and provides services for the SpaceDataHighway.
The EDRS-C satellite platform is supplied by OHB System AG. In addition, a hosted payload — HYLAS 3 — was provided by Avanti Communications under a contract with ESA as a customer-furnished item to OHB.