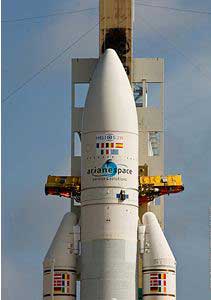 No slowing down as the seventh and final Ariane 5 launch for 2009 has launched at the second attempt on Friday following a 24 hour scrub due to an unspecified issue with the launch platform.
Arianespace wraps up another successful year of operations with today's orbiting of the
French Helios 2B military very-high-resolution optical imaging observation (spy) satellite, which was produced by Thales Alenia Space
and lofted at the European Spaceport in Guiana Space Center in Kourou, French Guiana in behalf of the French Space Agency. This daytime mission underscored Ariane 5's
capability to accommodate a full range of satellite payloads by placing Helios 2B into a Sun-synchronous polar orbit during a flight lasting just under one hour
. 
It was the third time in 2009 that Arianespace's workhorse launcher carried defense and security payloads. On its year-opening mission in February, Ariane 5 lofted two Spirale satellite demonstrators for a French-developed future early warning system, while its October 1 flight deployed the COMSATBw-1 secure telecommunications platform for Germany's armed forces. In fact, the successful close-out of 2009 launch operations came only days before the 30th anniversary of Ariane's maiden flight, which was performed on December 24, 1979 with an Ariane 1 version. 
Chairman and CEO
Jean-Yves Le Gall
said these missions "underscore the strategic nature" of Arianespace's role as a launch services provider, and confirms the access to space provided by a system that is
backed by European governments and its space industry
.
"
During the past 30 years, our company has launched 277 satellites — 32 of which were for the requirements of European defense
," Le Gall added. "This will continue in the future: with
10 new contracts signed in 2009 — soon 11
— we have once again led the pack, and our order book guarantees the launch rate of six to seven Ariane 5s annually for the years to come."
Today's flight also marked the 35th consecutive successful launch for Ariane 5
, demonstrating this workhorse vehicle's record of reliability for Arianespace's growing international customer base. 
"While Ariane very often is cited as an example of political cooperation, technical accomplishment, industrial realization or commercial achievement, I can say that after experiencing the many successes as today's flight, it above all is a formidable human adventure," Le Gall said.  "
This string of uninterrupted success is the anniversary present that we all have dreamed about for these 30 years.  For those who have made it happen: Bravo!"
"Thales Alenia Space has produced all the high-resolution instruments for Helios satellites since 1993
," said
Reynald Seznec
,
President and CEO of Thales Alenia Space
. "By drawing on our expertise in optical engineering and industrial facilities that are unrivaled in Europe,
we have developed instruments that are increasingly sophisticated and also provide greater and greater precision in terms of both spatial and spectral resolution.
Thales Alenia Space has the capabilities needed to remain the trusted partner of the French Ministry of Defence in the coming years, for both observation and communications applications."
An Ariane 5 GS is being used for this 49th launch of Arianespace's workhorse vehicle. The GS version is tailored for low-Earth orbit payloads such as Helios 2B, and is operated along with the Ariane 5 ECA on missions to geostationary transfer orbit that carry telecommunications satellite payloads. As a result, Arianespace utilizes two standardized launcher configurations, ensuring what they describe as high reliability and availability through production repeatability.
The 193rd Ariane mission will place the HELIOS 2B military observation satellite into sun-synchronous polar orbit. The Ariane 5 GS launcher will be carrying a total payload of 5,954 kg, including the HELIOS 2B satellite, which will be released into its targeted orbit. The launch will be from Ariane Launch Complex No. 3 (ELA 3).
Helios 2B will be the latest in a family of military observation satellites launched by Ariane, and this payload was built by EADS Astrium.
Arianespace's customer on the upcoming mission is the CNES French space agency
. This bird is the second satellite in a new-generation spaceborn observation system for military applications that has been created by France in conjunction with
Belgium, Spain, Italy and Greece.
All of the previous Helios 2 and Helios 1 satellites have been launched by Ariane vehicles, beginning with Helios 1A in July 1995
.