[SatNews] ...is an entirely new way for customers to employ its trusted asset management solutions without any upfront capital investment.

SkyBitz®, the leader in remote asset tracking and information management solutions, today announced "SkyBitz as a Service", an entirely new way for customers to employ its trusted asset management solutions without any upfront capital investment.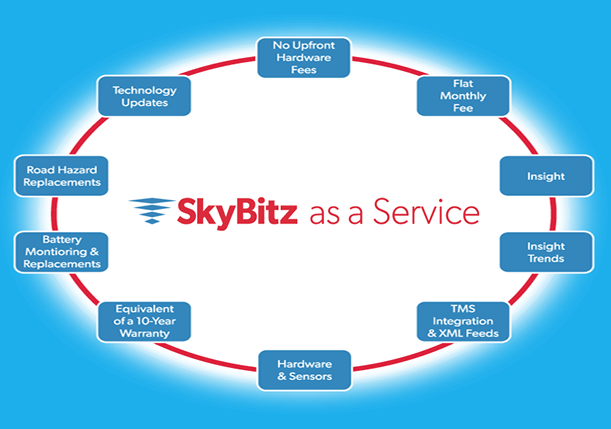 SkyBitz as a Service (SBS) is a simple monthly subscription that is designed to provide customers comprehensive trailer and asset information management and historical trends analytics. Combined with a strong partnership commitment from SkyBitz, this new platform allows companies to start deploying SkyBitz's trailer logistics and asset management solutions across their fleets easier and faster than ever before.
"With growing demand for capacity, fleets cannot afford to wait for vital information. SkyBitz as a Service allows our customers to move quickly and realize the immediate benefits in-transit visibility provides," said Henry Popplewell, Senior Vice President and General Manager, SkyBitz. "SkyBitz as a Service represents a major paradigm shift in the transportation and logistics industry—where traditionally technology products and services are sold with upfront capital expense for the hardware and monthly service fee. By eliminating the upfront investment requirement, the SBS platform removes the barrier to entry for asset management purchases and provides a quicker ROI."

SkyBitz as a Service delivers actionable information to enable customers to quickly make more informed decisions in order to run their fleets as efficiently as possible. The ability to monitor the location and status of assets can help fleets achieve reduced trailer-to-tractor ratios, faster turn times, improved dispatching, proof-of-delivery, accurate detention billing and enhanced security. Unlike competitive offerings, SBS eliminates for its customers the hassle of upfront costs and risk exposure associated with owning and maintaining the hardware. Instead, SkyBitz owns the asset tags and provides all of the following benefits as part of the affordable monthly flat fixed fee:
SkyBitz InSight web application;
SkyBitz InSight Trends historic trends and performance analytics;
Transportation Management System (TMS) integrations and XML feeds;
Proactive battery monitoring and free replacements;
Road hazard protection and expedited hardware replacements to minimize downtime;
Protection from technology obsolescence; and,
Multiple sensors and data via SmartTrailer package option.
The new SBS offering is quickly gaining momentum with several recent major customer wins, including Interstate Distributors, a Transport Topics Top 100 For-Hire Carrier. "We had made the decision to invest in trailer tracking to improve our driver experience and improve operating efficiency. We researched several providers and were impressed with not only SkyBitz's reputation and partnership approach but also the uniqueness of SkyBitz as a Service—a solution with no upfront costs," said Marc Rogers, CEO and President, Interstate Distributors. "By taking advantage of SkyBitz as a Service, we were able to start rolling out trailer tracking immediately across our entire fleet."

"We are proud Interstate Distributors selected us as their partner to help them better manage their entire fleet of trailers via SkyBitz as a Service. SkyBitz built the trailer tracking and asset management industry 15 years ago and we continue to lead it today by continuously introducing innovative solutions for our customers. Today we are announcing a completely unique way to adopt asset tracking by offering SkyBitz as a Service," said Popplewell.

SkyBitz is the first provider of trailer tracking solutions to package a complete asset management enterprise solution consisting of the SaaS reporting platform, InSight, analytical trends dashboards via InSight Trends, and comprehensive TMS integrations, all through the largest portfolio of satellite and cellular based products in the industry, for only a simple monthly subscription.

To learn more about SkyBitz as a Service visit.

SkyBitz, a wholly owned subsidiary of Telular Corporation, provides global remote asset management solutions, and in providing real-time information on the location and status of assets. More than 800 enterprises rely on SkyBitz technology to achieve total asset visibility, improved security, lower operating and capital expenses, and enhanced customer service. SkyBitz delivers its solution via SkyBitz InSight, a secure web-based application that is fully customizable and requires no software downloads. For additional information, visit.