Updates from various sources now indicate that the next approximate launch date for WorldView-4 won't be until some time in October. The exact date is not given.
The first delay came during countdown on September 16, when the launch was scrubbed due to a liquid hydrogen leak in the ground support equipment resulting in an ice ball forming on an umbilical cable. The launch was rescheduled for September 18, to allow for the replacement of a fill-and-drain valve, determined to be the cause of the leak.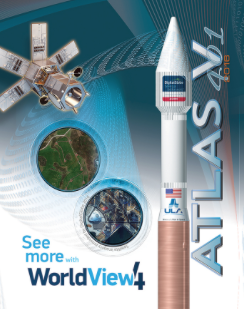 Then, what should happen but the Canyon Fire, a wildfire that burned over 12,000-acres on the southern section of Vandenberg, which resulted in a further launch delay so that the base could "concentrate [their] resources on the situation at hand." At its peak the fire had 1,052 fire fighters from more than 50 agencies and multiple aircraft in a battle to save life, property, and national defense facilities. As a result of scheduling availability on the Western Range, the flight was rescheduled for September 26, however continued efforts in fighting the Canyon Fire caused an indeterminate delay of the launch to no earlier than October 2016.
According to Lt. Col. Ryan Novotny, 30th Civil Engineer Squadron commander, crews have restored electricity to the more than 150 facilities that lost power due to a swift moving fire through the base cantonment area on September 22. At this time, the fire is controlled and fire teams are accomplishing mop-up actions. Civil engineers have returned natural gas supplies to housing and dormitories that had supplies turned off on September 22 in effort to minimize the fire danger.
WorldView-4, previously known as GeoEye-2, is a planned third generation commercial Earth observation satellite scheduled to launch in October 2016. The spacecraft will be operated by DigitalGlobe. With a maximum resolution of 31 cm (12 in), WorldView-4 will provide similar imagery as WorldView-3, the highest resolution commercially available at the time of its launch. When WorldView-4 launches from Vandenberg Air Force Base Space Launch Complex 3E it will launch aboard an Atlas V rocket in the 401 configuration, serial number AV-062, provided and administered by United Launch Alliance.
This is the same rocket that had been scheduled to launch the InSight Mars lander, which was delayed until 2018. The rocket had been erected at the Vandenberg launch pad on December 16, 2015 for the InSight mission; after the WorldView-4 mission took the place of InSight, the rocket was allowed to remain vertical at the pad protected by its mobile service tower. The WorldView-4 payload was fixed atop the rocket during the second week of September 2016.