[Satnews] TeleCommunication Systems, Inc. (TCS) (NASDAQ: TSYS) has received a delivery order from the U.S. Army for sustainment of the AN/TSC-198A SNAP (Secret Internet Protocol Router (SIPR) and Non-classified Internet Protocol Router (NIPR) Access Point), Very Small Aperture Terminals (VSATs).
The initial funded contract value is $18.6 million for the period from September 2015 through September 2018, and the ceiling contract value, including funded and unfunded amounts, is nearly $91 million over the next three years, if all options are exercised.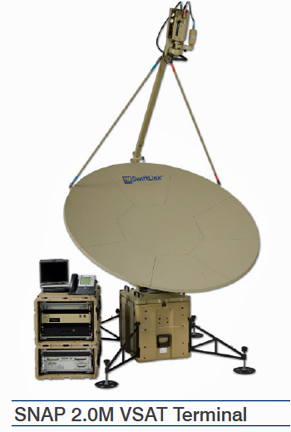 TCS SNAP VSAT systems provide multimedia communications capabilities, which convey encrypted voice, video and data. The systems are highly transportable and ruggedized and TCS SNAP VSAT systems also have a graphical user interface that facilitates easy set-up and operation. The modularity and plug-and-play interfaces among all radio frequency (RF) and baseband configurations inherent to the terminals result in communication solutions tailored to the end-user's specific needs.
Executive Comment

TCS Government Solutions Group President, Michael Bristol, said, "DoD needed an experienced and capable systems integrator for sustainment of SNAP VSAT terminals, and TCS has fielded and supported hundreds of SNAP terminals. TCS is committed to deliver mission critical communications support to the military."