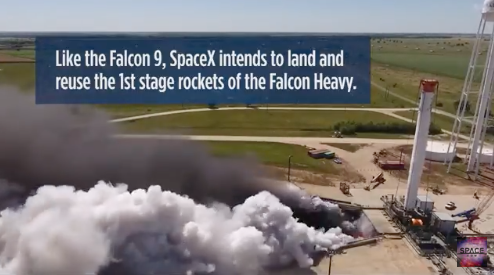 SpaceX put their Falcon Heavy's main core to the test this week that resulted in it passing the static fire test, another milestone in which they shared their success on Twitter. The rocket was strapped down for the static fire test, then on went the rocket's boosters engines as they were ignited. The Falcon Heavy uses three Falcon 9 boosters to power the larger rocket, which SpaceX hopes will make commercial space travel a reality.
Originally the company had planned to have everything operational for carrying space travelers and cargo into orbit by 2013, but now the plan has been changed to late summer of 2017. Because the rocket's static fire test went well it could bode well for this summer's travel plans.
The Falcon Heavy is the major player in the plan that Musk has organized in which two private citizens are launched into orbit around the Moon by late 2018. The plan is for the spacecraft to 'buzz' low over the Moon's surface without landing and then the Moon's gravity will sling the capsule back to Earth.