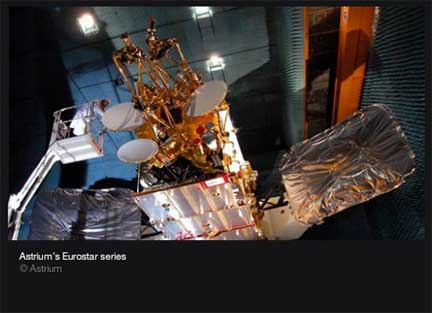 [SatNews] It is always nice to be accepted by one's peers...
Astrium Services and Thales Alenia Space (TAS) have achieved the Initial System Acceptance (ISA) milestone, which was approved by the Al Yah Satellite Communications Company (Yahsat) and the United Arab Emirates Armed Forces
.
The ISA
milestone included the delivery of the anchor station assets at the first Yahsat site in Abu Dhabi, as well as the transmission, telemetry and control facilities on the second site in Al Ain City.
A number of end user
terminals of various types were delivered with an extensive Network Management System (NMS).
Commenting on this achievement,
Tareq Abdulraheem Al Hosani
,
CEO of Yahsat
, said: "We are pleased with the job Astrium Services and Thales Alenia Space have delivered, which enabled us to provide state-of-the-art secure satellite communications services.
We are confident both companies will continue the outstanding work to achieve the final system acceptance in six months
."
Aidan Joy
,
Executive Director of Astrium's Secure Satcom Systems
and
Nathalie Smirnov
,
Thales Alenia Space Senior Vice President of Telecom System and Payload
, said: "
This is a huge achievement for Astrium and TAS, which follows a test campaign over recent weeks and a final end-to-end demonstration to the UAE Armed Forces.
Once again we have demonstrated our ability to plan and deliver an entire turnkey system from the satellites in orbit to the end user ground terminals – the whole team has done a fantastic job. The UAE now has a state-of-the-art secure satellite communications system that can be used for both commercial and military communication services."
The
state-of-the-art NMS facility provides remote control of all system hardware, delivering exceptional and instantaneous flexibility that reinforces the system's secure communications capability.
Yahsat's second satellite has completed its ground testing and is ready for launch early in 2012.
Yahsat, a wholly-owned subsidiary of Mubadala Development Company, provides multi-purpose satellite communications services to commercial and governmental clients in the Middle East, Africa, Europe and South-West Asia.
The company is the first satellite operator in the region to provide highly secure satellite services in Ka-band.
Astrium and Thales Alenia Space are jointly responsible for the overall Yahsat system.
Astrium, the leading partner, is the prime contractor for the ground segment, in charge of the overall system and network management. The satellites are integrated and tested by Astrium, based on the company's leading
Eurostar E3000 platform
. Thales Alenia Space is responsible for the Yahsat space segment, and is supplying the communications payloads and procuring the launchers. The ground terminals are provided by Astrium and Thales. The Launch and Early Orbit Phase operations are conducted from the Astrium spacecraft control centre in Toulouse.