[SatNews] Despite the launch delay on the ground, it didn't stop the astronauts from stepping out of the International Space Station.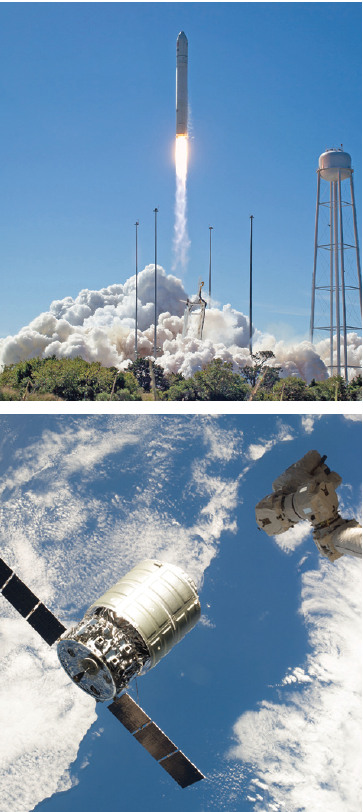 Today, at NASA's direction, Orbital Sciences Corporation (NYSE: ORB) has postponed the launch of our commercial cargo resupply mission to the International Space Station (ISS) that was scheduled to occur on December 19, 2013, while the space agency proceeds with a series of spacewalks to replace a faulty pump module on the ISS that stopped working properly on December 11. The Antares rocket that is currently on the launch pad at Wallops Island, Virginia, will be returned to a horizontal position and transported back to the Horizontal Integration Facility (HIF). At the HIF, the Antares payload fairing will be removed to allow the Cygnus team to open the payload module hatch and remove time-critical payloads for safekeeping until the next launch attempt, which will occur no earlier than January 13, 2014. More information about Orbital can be found at.
NASA currently plans for two Expedition 38 astronauts to venture outside the space station Dec. 21, 23 and 25. NASA astronauts Rick Mastracchio and Mike Hopkins will remove a pump module that has a failed valve. They will replace it with an existing spare that is stored on an external stowage platform. The pump is associated with one of the station's two external cooling loops, which circulate ammonia outside the station to keep both internal and external equipment cool. Each of the three spacewalks will begin at 7:10 a.m. and is scheduled to last six and a half hours. NASA TV coverage will begin at 6:15 a.m.
Wednesday's spacewalks preview briefing will take place from NASA's Johnson Space Center in Houston. Reporters may attend the 3 p.m. briefing at Johnson and other participating NASA centers, or ask questions by calling the Johnson newsroom at 281-483-5111 no later than 2:45 p.m. Briefers will include:
—Michael Suffredini, International Space Station program manager
— Dina Contella, International Space Station flight director
— Allison Bolinger, lead spacewalk officer
With the successful completion of the September COTS mission, Orbital begins regularly scheduled cargo delivery missions to the ISS under the $1.9 billion Commercial Resupply Services (CRS) contract with NASA. Under the CRS contract, Orbital will deliver approximately 20,000 kilograms of cargo to the Station over eight missions through 2016.