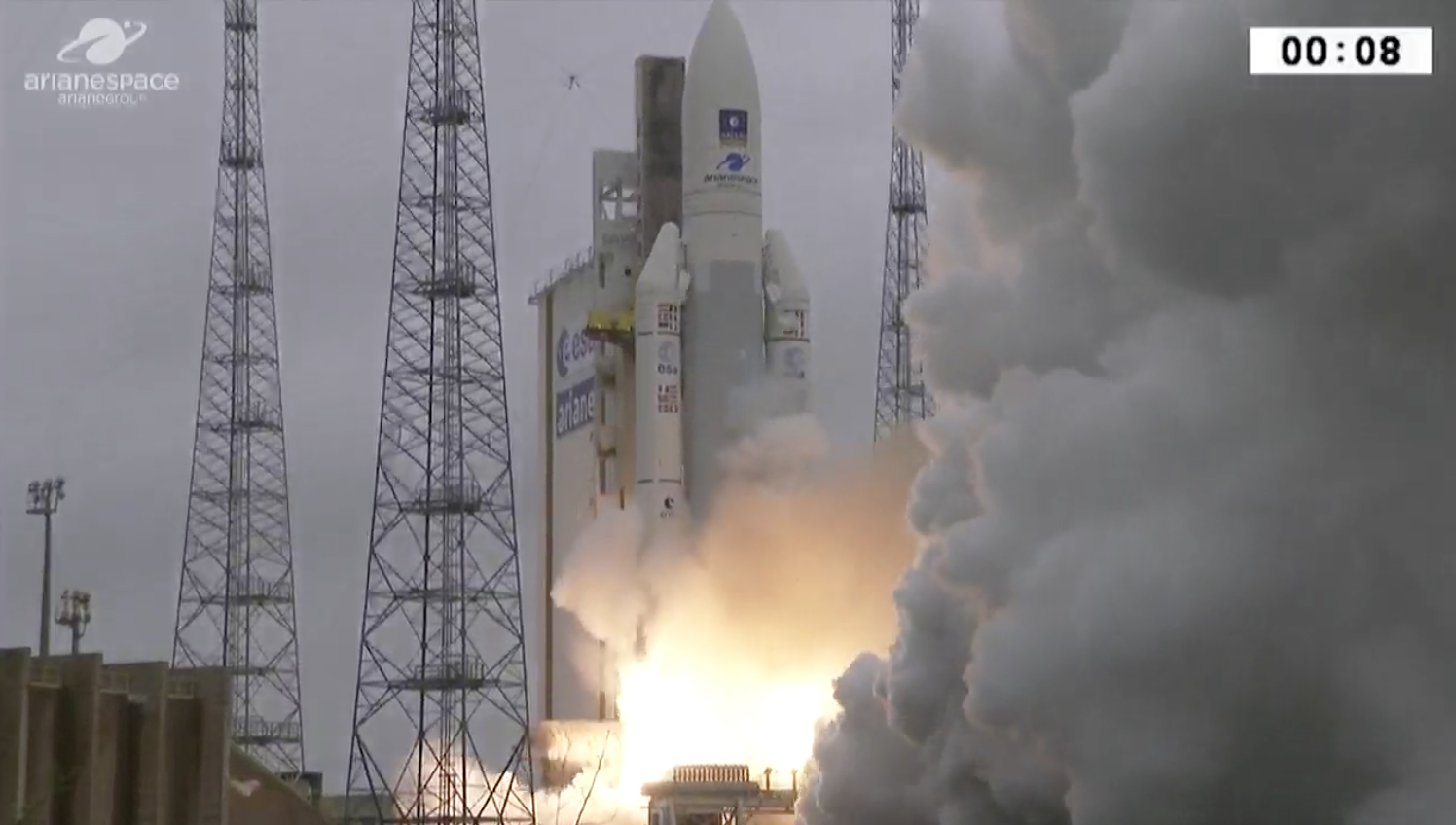 It was a go on an overcast day from the Spaceport in French Guiana as the last launch of 2017, VA240, was successful for Arianespace transporting the latest cluster of four Galileo spacecraft. The Ariane 5 was used to transport the latest additions to Europe's civilian-run satellite navigation constellation.
This is a year to be remembered that included a shutdown of the facility due to political unrest. Tuesday's launch is the eleventh launch of the year, and the sixth Ariane 5 liftoff from the Guiana Space Center (CSG) in French Guiana during 2017.
The satellites have a liftoff mass of approximately 715 kg. each, and will be injected into a medium Earth orbit (MEO) at an altitude of 22,925 kilometers. To achieve this, the Ariane 5's storable propellant upper stage will perform two burns during a mission lasting 3 hours and 55 minutes.
As with the workhorse Ariane 5 launcher itself, the multi-passenger dispenser for the four Galileo satellites was developed and built by ArianeGroup. Flight VA240 marks the second time that Arianespace is using the Ariane 5 ES and dispenser system to orbit payloads for Europe's satellite navigation system, following other flights that employed medium-lift Soyuz vehicles carrying two Galileo spacecraft per mission.

Flight VA240 will close out Arianespace's 2017 launch activity, which previously involved 10 flights from the Spaceport: five performed with Ariane 5, three utilizing the lightweight Vega and two with the medium-lift Soyuz.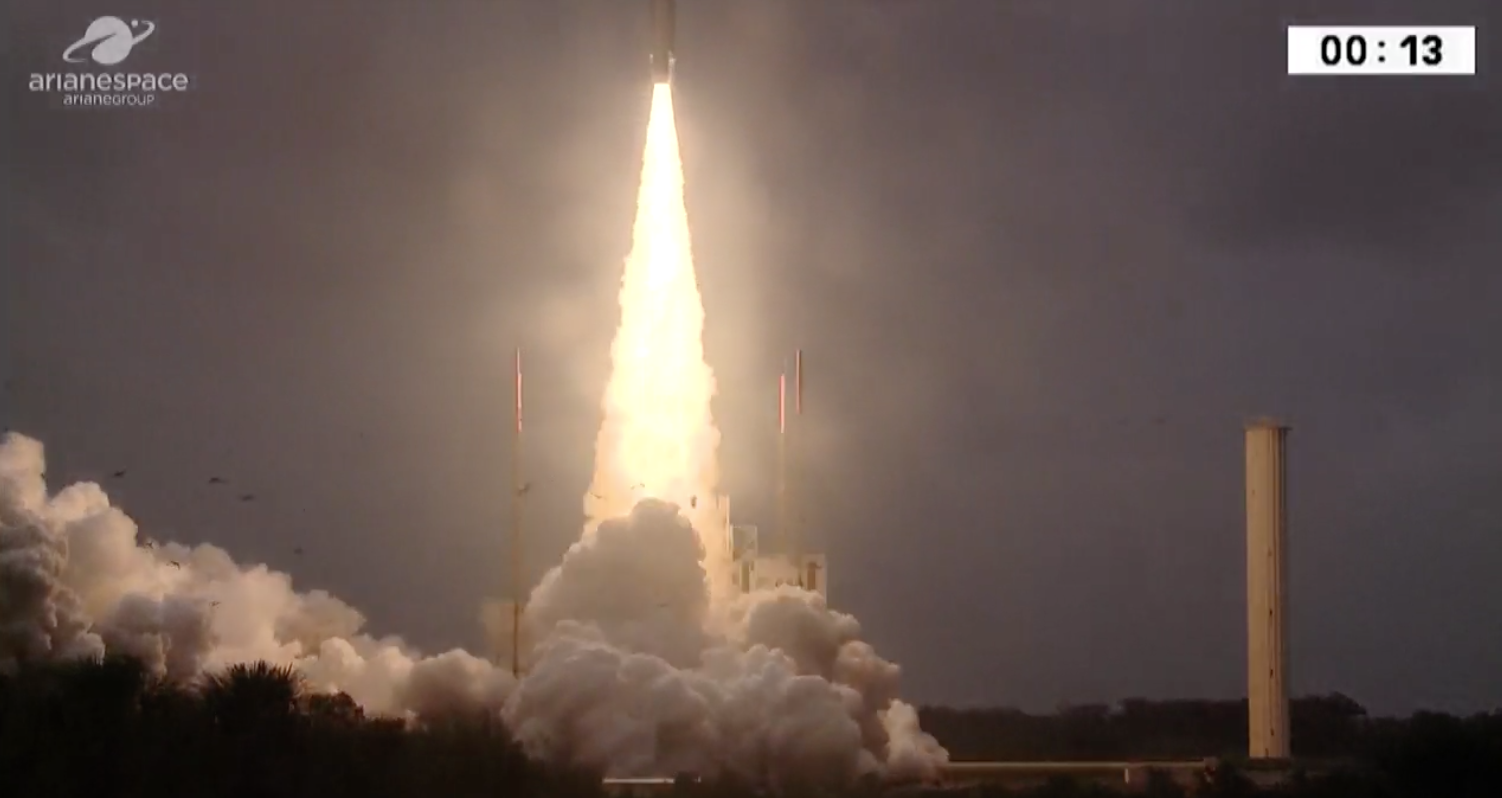 After this 11th launch of the year, and the sixth Ariane 5 liftoff from the Guiana Space Center (CSG) in French Guiana during 2017, Arianespace will orbit four more satellites for the Galileo constellation.
This mission is being performed on behalf of the European Commission under a contract with the European Space Agency (ESA).
For the second time, an Ariane 5 ES version will be used to orbit satellites in Europe's own satellite navigation system. At the completion of this flight, designated Flight VA240 in Arianespace's launcher family numbering system, 22 Galileo spacecraft will have been launched by Arianespace.
Arianespace additionally added comments...
With this launch number 240 from the European spaceport in Kourou (French Guiana), Ariane 5 has once again demonstrated its flexibility and adaptability, successfully placing four satellites in orbit for the European navigation satellite constellation Galileo. The launch was carried out by an Ariane 5 ES version, which has an upper stage powered by the re-ignitable Aestus engine, already successfully deployed for the launches of all five European ATV space freighters, and for the launch of four previous Galileo satellites in November 2016.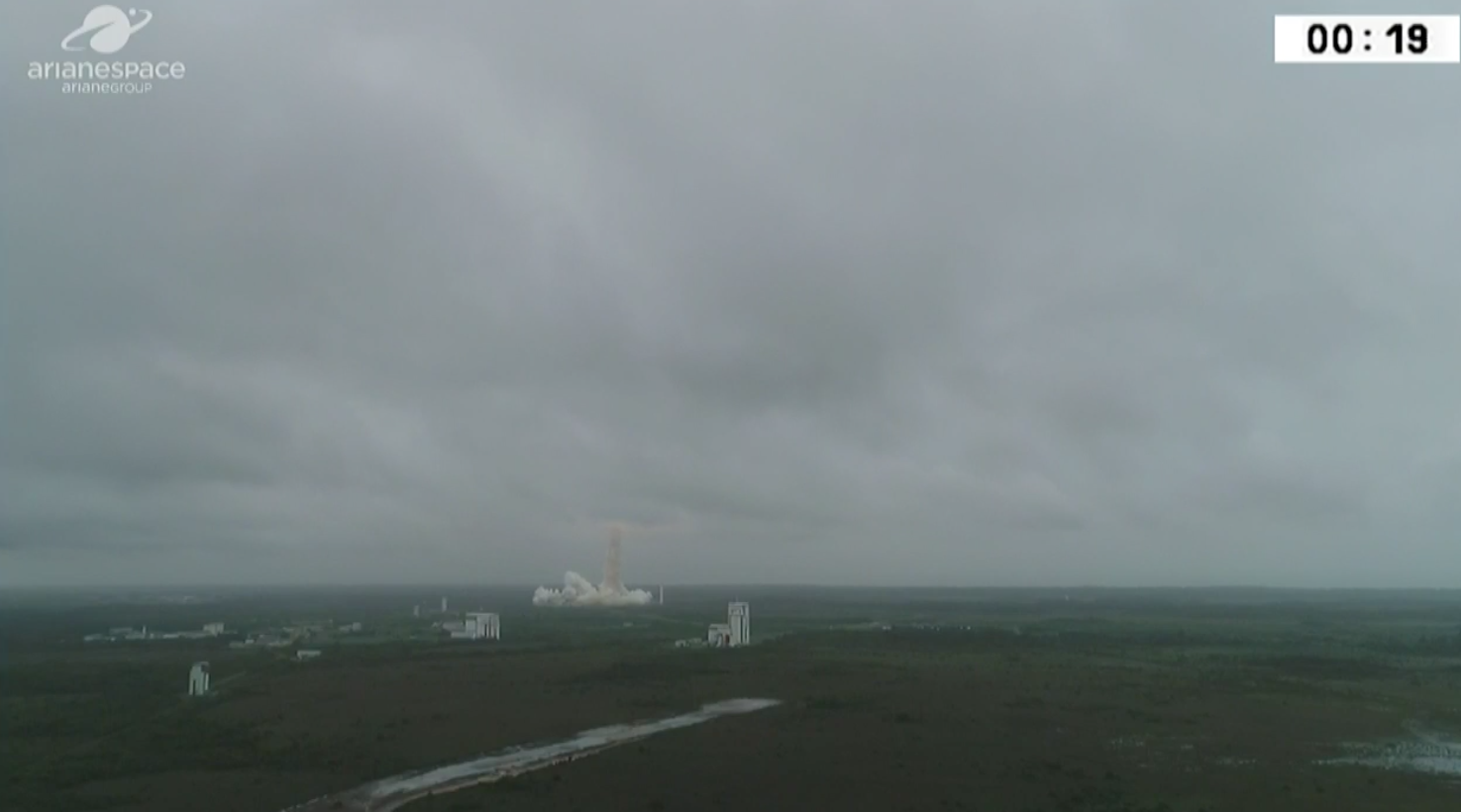 The launch performance of this Ariane 5 ES was 3283 kg (including 2855 kg for the satellites) to a circular orbit at an altitude of 22922 km - four satellites of around 714kg each. A 428-kg dispenser system, specially developed and built by ArianeGroup for the Galileo launches, was used for orbit injection of the satellites.
"2017 has been a perfect year for Ariane 5, which has beaten its own record with its 82nd consecutive successful launch since 2003. These four new Galileo satellites put into orbit testify once again to the unparalleled reliability of Ariane 5, which has already benefited the development of Ariane 6. I would like to thank ESA and the European Commission for having entrusted our subsidiary Arianespace with this emblematic mission, and to be the first to have decided to get on board Ariane 6, entrusting it with the launch of the next Galileo satellites from 2020," said Alain Charmeau, CEO of ArianeGroup.
Ariane 5 ES will launch four more Galileo satellites in 2018, before being replaced by Ariane 6. Two twin-booster Ariane 62s, equipped with the re-ignitable Vinci engine, will place four new satellites in orbit between the end of 2020 and mid-2021. This decision was made official in a contract signed last September by Arianespace and ESA, on behalf of the European Commission (DG GROW) and the European Union.
Ariane 5 is the spearhead of European know-how and one of the most wide-ranging and ambitious space programs in the world. Its flexibility enables it to transport heavy payloads into low Earth orbit, two satellites into geostationary transfer orbit, one with an optimized lifetime, or, as is the case with this launch, several satellites into medium earth orbit.
As the industrial lead contractor for development and operation of the Ariane 5 and Ariane 6 launchers, ArianeGroup coordinates an industrial network of more than 600 companies in 13 European countries, including more than 350 Small and Medium Enterprises. ArianeGroup oversees all industrial activities, from the performance improvements and studies necessary for Ariane 5 up to its production, the provision of data or software specific to each mission, as well as marketing activities via Arianespace. This chain includes equipment and structures, engine manufacturing, integration of the various stages, and finally launcher integration in French Guiana.
Lift-off for 4 Galileo satellites as SSTL celebrates navigation payload order
Surrey Satellite Technology Ltd (SSTL) celebrated the twin achievements of a successful lift-off of 4 Galileo satellites from Kourou in French Guiana today, and the start of production of a third batch of navigation payloads for the Galileo Constellation. The new contract, signed with long-term partner OHB System AG, is for another 12 navigation payloads – adding to the 18 payloads already in-orbit and completing the constellation.
Jo Johnston, Minister for Science and Education said "The successful launch of the latest Galileo satellites demonstrates the UK's valuable contribution to Europe's global navigation satellite system. The team at SSTL should be proud of their work, which is held in high regard around the world."
"Our recently published Industrial Strategy set out a clear vision for the UK to become the world's most innovative nation and underlines our commitment to work with industry to capture 10% of the global space market by 2030."
Gary Lay, SSTL's Director of Navigation, was at the launch site in Kourou to witness the event and commented "I am delighted to be here to see the latest launch of Galileo satellites and I am extremely proud of the Galileo team at SSTL for producing world-class navigational payloads that will improve the accuracy of location services for people all around the world."
As with the previous Galileo contracts, SSTL in its capacity as payload provider is responsible for the design, construction and test of the navigation payload panels which are based on European-sourced atomic clocks, navigation signal generators and high power travelling wave tube amplifiers. In addition, SSTL manufactures the electrical harnesses and electronics to interface the payload to the satellite platforms and provides in-orbit verification support.
SSTL was selected to supply the navigational payloads for the first 14 Galileo Full Operational Capability satellites, in partnership with prime contractor OHB System AG of Germany, in January 2010. In 2012, the OHB-SSTL partnership was awarded a second contract to supply a further 8 spacecraft for the programme and earlier this year the Batch 3 contract was again awarded to the OHB-SSTL partnership.
To mark the occasion SSTL staff in Guildford gathered for a slice of celebratory cake, a long-standing tradition at SSTL where cakes have fueled many previous test campaigns and 50 previous mission launches.
Key facts:
Galileo satellites weigh approximately 750kg each.
Operational Galileo satellites launches began in 2011 with system completion scheduled for 2020.
With today's launch, there are now 22 Galileo satellites in orbit; 18 of these have been supplied by the OHB-SSTL partnership.
Initial Galileo services went live on 15 December 2016.
The fully deployed Galileo system will consist of 24 operational satellites plus in-orbit spares, positioned in three circular Medium Earth Orbit (MEO) planes at 23 222 km altitude above the Earth, and at an inclination of the orbital planes of 56 degrees to the equator.

The Full Operational Capability phase of the Galileo program is managed and fully funded by the European Union. The Commission and ESA have signed a delegation agreement by which ESA acts as design and procurement agent on behalf of the Commission.