In what will be a challenge for incumbent and new market entrants, US Government launch demand is not expected to increase at a comparable rate in the coming decade, so how will this factor in the industry?
Between congressional RD-180 debates, SpaceX's GPS III launch award, and millions in federal funding for new launch technologies, the past year has been filled with discussions of access to space and to the US Government launch market. Current activity shows widespread interest in addressing this market, but do future prospects match the interest levels of industry?
US Government EELV class launch demand has historically been addressed by few players, and for the better part of a decade was served by ULA alone. The entry of SpaceX has added a note of diversity to this market, particularly with the recently announced NRO contract that demonstrates activity across the triumvirate of government players: the NRO, Air Force, and NASA. Yet the market continues to grow: the Air Force awarded development contracts earlier this year to Orbital ATK, SpaceX, Aerojet Rocketdyne, and ULA/Blue Origin that will broaden the launch vehicle landscape. By 2020, today's market of two players and three vehicles could double to four players and six+ vehicles.
In what will be a challenge for incumbent and new market entrants, US Government launch demand is not expected to increase at a comparable rate in the coming decade. NSR's recent Satellite Manufacturing and Launch Services, 6th Edition report found that government launch rates will average 12 satellites per year between 2016-2025, 20 percent less than the 2011-2015 average. While GPS III launches are scheduled to begin in 2017 and continue throughout this forecast period, other constellation-based programs are reaching the end of their deployment cycles. MUOS, AEHF, and WGS should be fully launched by 2019, leaving little GEO communications launch demand until follow-on systems begin to deploy in the late 2020s. Increased focus on situational awareness and space security will boost demand slightly, but insufficiently to fully counterbalance the lower GEO communications launch demand.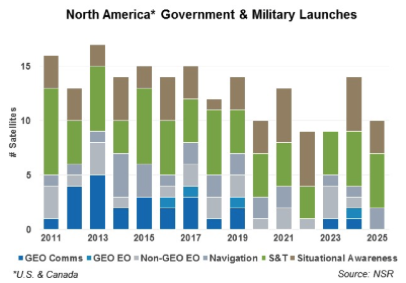 This narrowing launch opportunity window showcases the fading days of pursuing only government and military contracts. With a growing pool of players and lower demand, launch service providers will not be able to achieve minimum annual launch cadences—5-6 for some, up to 10 for others—with government contracts alone. Further, the historically high prices and revenues of US Government contracts will decline with increasing competition and the implementation of next generation vehicles. The challenge then becomes competing for sufficient commercial contracts to complement government business.
Yet, the net entry of three or more vehicles to the global commercial market in 2020 will transform an already competitive market to be even more competitive. EELV class launch demand is not expected to increase significantly in the 2020s, meaning either fewer launches per player, decline in price to the point of elasticity and increasing demand, or a market exit. Requirements for manufacturing volumes and reliability mean the requisite reduction in launches per player to accommodate seven of them is not sustainable. The point of launch demand elasticity remains untested, but for Beyond-LEO markets the regulatory restrictions and addressable market will be other key limiting factors to demand growth. Finally, the other launch service providers—Arianespace, ILS, MHI—benefit from government support through guaranteed launch contracts, manufacturing volume, or R&D funding and will not be allowed to fail. This leaves one or more US launch service providers as most likely to exit the market, begging the question: By funding and supporting multiple new vehicles and launch service providers without providing a guaranteed market, is the US Government setting up its own industry to fail?
Bottom Line
Recent US Government initiatives to expand the monopolistic launch market to initially two players, and potentially up to four, will increase diversity of launch options, decrease average pricing, and reinforce assured access to space. Yet the simultaneous slackening of government and military demand will force these launch service providers to look to commercial opportunities to complement government business, driving competition in a market that ultimately cannot sustain all players. While recent US Government awards present an attractive opportunity to win funding for R&D and a piece of its still lucrative launch market, current and new EELV class launch providers must be conscious of the challenges they will face in building a sustainable business with a commercial market component.