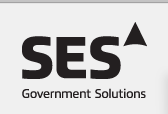 [SatNews] Global satellite solutions provider (SES GS) announced it has been awarded a one-year task order with four one-year option periods to provide 288 MHz of Ku-band satellite capacity to support forces deployed to the U.S. Central Command (USCENTCOM) area of operation.
The innovative solution designed by the SES GS team is supported entirely by SES capacity. This agreement enables U.S. troops to send and receive information through satellite services and offers Central Command the flexibility to support forces deployed in the region when and where required.
SES GS has a long-standing relationship supporting U.S. forces. SES satellites have supported the U.S. military for nearly four decades.