[SatNews] Key elements of the Ariane 5 launcher for Arianespace's second flight of 2011 arrived at the Spaceport this week, where they will be readied for a dual payload mission with the Yahsat 1A and Intelsat New Dawn telecommunications satellites.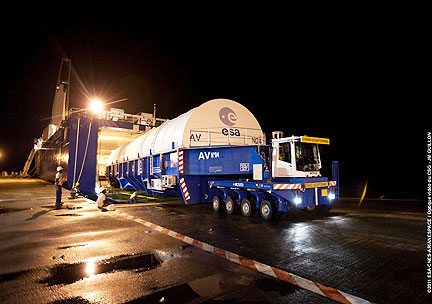 The
Ariane 5
's core cryogenic stage and payload fairing were delivered to French Guiana by the
MN Colibri
, which is one of two sea-going ships used by
Arianespace
for the transportation of launch vehicle components from Europe to South America. Also carried aboard this roll-on/roll-off vessel were four upper segments to be used in solid rocket motors for other Ariane 5 launchers. After the MN Colibri's docking at Pariacabo Port, the Ariane 5 hardware was unloaded and moved by road to the Spaceport.
This second mission of 2011 – which will be the 201st flight of an Ariane family vehicle – is to use an Ariane 5 ECA version of the heavy-lift launcher. Its
Yahsat 1A
passenger is designed to provide services for both government and commercial customers in the Middle East, Africa, Europe and Southwest Asia. It was built by a joint team of
EADS Astrium
and
Thales Alenia Space
for the
Al Yah Satellite Communications Company
(Yahsat) – a private joint stock company owned by
Mubadala
, an investment arm of the Abu Dhabi government. To be positioned at
52.5 degrees East
, Yahsat 1A will deliver innovative solutions for Internet links via satellite, business data networks and television transmission services, particularly for high-definition TV.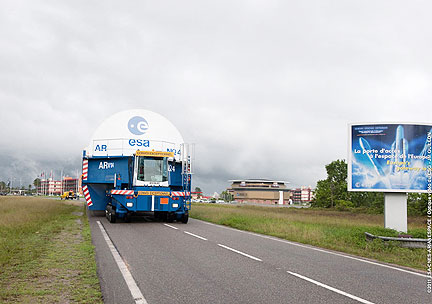 The Ariane 5 mission's other payload,
Intelsat New Dawn
, will provide voice, wireless backhaul, Internet and media applications services. Operating from an orbital position of
32.9 degrees East
, its footprint is designed for coverage over Europe, the Middle East, Africa and sub-Saharan regions. This
Orbital Sciences Corporation
-built hybrid C-/Ku-band satellite was produced for the joint venture of Intelsat and a South African investor group led by
Convergence Partners
, and it will be operated and marketed as a part of the global Intelsat fleet.
Arianespace's mission with Yahsat 1A and Intelsat New Dawn will follow the February 15 flight of an Ariane 5 ES launcher version with the second
Automated Transfer Vehicle
for servicing of the International Space Station. This year-opening mission of 2011 will be the historic 200th flight for Europe's Ariane launcher since the maiden flight of an Ariane 1 in December 1979.
Photos, courtesy of Arianespace: The Ariane 5 core cryogenic stage for Arianespace's mission with Yahsat 1A and Intelsat New Dawn is unloaded from the MN Colibri at Pariacabo Port (photo is at the upper left), and arrives by road at the Spaceport (at lower right).