[SatNews] Mega-sized ships with guests' experiences being met—now in more ways than ever...
Harris CapRock Communications, a global provider of managed communication solutions for remote and harsh environments, has expanded its collaboration with O3b Networks to deliver an advanced communications solution for Royal Caribbean Cruises Ltd's Allure of the Seas® cruise ship. The two companies also are teaming to integrate systems aboard Royal Caribbean's Oasis of the Seas®—one of the largest and most innovative cruise ships in the world.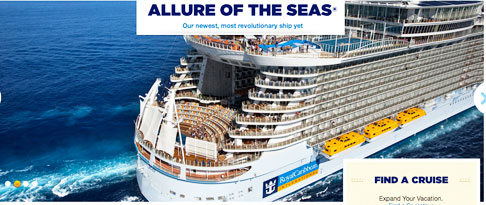 The collaborative solution will enable Royal Caribbean to offer a wide range of consumer and enterprise Broadband applications—greatly enhancing guest experience and crew morale. The solution will leverage O3b's unique, low-latency Medium Earth Orbit satellite fleet and Harris CapRock's maritime systems integration expertise. Harris CapRock will install stabilized antenna systems and provide continuous, fully managed service to deliver high levels of dedicated, fiber-quality bandwidth to the Allure of the SeasSM and Oasis of the SeasSM throughout their voyages.
"As the systems integrator and managed service provider for these sister ships, Harris CapRock is focused on ensuring a smooth installation and commissioning of what will be an unrivaled Broadband service at sea," said Rick Simonian, president, Maritime Solutions, Harris CapRock.
"O3b looks forward to working with Harris CapRock to provide Oasis of the Seas and Allure of the Seas' guests and crew the same high-speed Broadband connectivity they are familiar with on land. Our innovation, combined with Harris CapRock's capability as a world-class satellite systems integrator, has created a world-class partnership, for which we are extremely proud," said Steve Collar, CEO of O3b Networks.
In May 2012, Harris CapRock was awarded a five-year contract with Royal Caribbean to provide communications services onboard its fleet of 35 ships in its Royal Caribbean International®, Celebrity Cruises® and Azamara Club Cruises® brands. To date, the company has completed the de-installation and installation of more than 120 large antenna systems onboard the fleet as an essential component of the managed network service for Royal Caribbean.