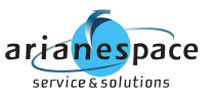 The Spaceport's ability to support Arianespace's launch cadence by enabling multiple missions to be readied in parallel is being demonstrated once again with two Ariane 5s currently undergoing processing in French Guiana.
Inside the Spaceport's Launcher Integration Building, the Ariane 5 for Flight VA238 is taking shape for a June 28 liftoff with a dual-satellite payload: the Hellas-Sat 3/Inmarsat S multi-mission relay satellite for Inmarsat and Hellas-Sat; and the Indian Space Research Organisation's GSAT-17 communications spacecraft.
This heavy-lift vehicle's build-up process began with the positioning of its core cryogenic stage over one of two mobile launch tables for Ariane 5. It cleared the way for the transfer of two large solid propellant boosters from their remote preparation zone to the Launcher Integration Building, where they will be mated to the Ariane 5's core stage.
The basic build-up will then be completed with integration of Ariane 5's cryogenic upper stage and vehicle equipment bay, followed by checkout and functional tests. Performing this entire phase of launcher integration activity is Arianespace's parent company and Ariane 5 prime contractor: Airbus Safran Launchers (as of July 1, the firm will be known as ArianeGroup).
Flight VA238's launcher will then be ready for transfer to the Spaceport's Final Assembly Building, where it will receive the Hellas-Sat 3/Inmarsat S and GSAT-17 satellite passengers.
The Final Assembly Building currently is occupied by the Ariane 5 for Arianespace Flight VA237, which is set for a June 1 liftoff with the ViaSat-2 and Eutelsat E172B telecommunications satellites. This Ariane 5 is installed on the second mobile launch table used by Arianespace's heavy-lift vehicles, and awaits its dual-passenger payload integration.
Arianespace is targeting a total of 12 missions in 2017 utilizing its family of the heavy-lift Ariane 5, medium-lift Soyuz and light-lift Vega. So far in 2017, the launch services company has performed five flights from the Spaceport: two each with Ariane 5 and Soyuz, along with one Vega mission.