[SatNews] The ISRO has successfully launched their IRNSS 1C navigation satellite.
ISRO successfully launches IRNSS 1C navigation satellite.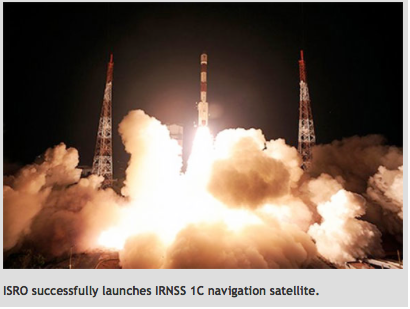 A PSLV-C26 launch vehicle with the IRNSS IC aboard lifted off from the launch pad at the Satish Dhawan Space Centre at Sriharikota at 1:32 a.m. This is the third member of the seven satellite constellation of the Indian Regional Navigation Satellite System (IRNSS).
The satellite detached from the launch vehicle about 20 minutes after the launch at an altitude of 49963km—this was the 27th consecutive successful flight of PSLV. The satellite was initially injected into a sub-geosynchronous transfer orbit with a 28,256km perigee (nearest point to Earth) and 20,670 apogee (farthest point from Earth). Later, it was lifted to a geo-stationary orbit. The satellite, which is similar in composition to its predecessors 1A and 1B, carries navigation and ranging payloads and will play a vital role in the IRNSS operations, from guiding drivers on city roads to aerial navigation, disaster management, mapping and surveillance activities. The IRNSS will make India self-reliant on navigation and surveillance from outer space, as it is expected to cover the Asian region. It will be used for two services—standard positioning service (SPS) extended to all users and restricted service (RS), which will be encrypted.
"It is a perfect launch. The injection was very precise and the PSLV was integrated at Sriharikota in 60 days, and there was a team of 1000 members working for the last four days to make this launch a success," said ISRO chairman K. Radhakrishnan after the launch.
The fourth navigational satellite of the IRNSS segment will be launched in December and the project will be fully operational next year. Radhakrihnan also said the ISRO's next mission would be the experimental test flight of GSLV Mark III, which will carry an unmanned crew module and will play a vital role in sending Indian astronauts into space in the near future.
M. Chandradathan, director, Liquid Propulsion Systems Centre of ISRO, said the GSLV Mark III would be launched in 45 days. "It is one of the heaviest indigenous launch vehicles that is being developed," he said.
Story source: The Times of India