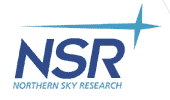 [SatNews] NSR's Wireless Backhaul via Satellite, 9th Edition provides a comprehensive analysis of the data communication segments of backhaul, trunking and video offload to the satellite industry and the broader telecommunications field. This latest edition continues NSR's leading coverage of satellite backhaul opportunities while being the first to assess the industry's most discussed topic: LEO-HTS systems and the potential demand for this new capacity.
2014 and 2015 have seen filings for LEO orbits, while SpaceX and OneWeb officially announced their plans to launch such systems, mainly targeting the "Internet connectivity" business. NSR analyzes the givens and the potential demand for capacity from LEO systems for the coming 10 years.
The three data-communications-oriented market segments of backhaul, trunking and the niche (yet strategic) video offload have seen changes and developments on all levels from an end-to-end service provision to bandwidth and equipment requirements. NSR provides qualitative and quantitative insight into these markets supporting all players in the respective ecosystems, assessing the business potential and evaluating their strategies.
This latest edition supports satellite operators to better understand customers in each vertical by analyzing ROI considerations for backhaul solutions as seen by the MNOs.
This report is both a qualitative and quantitative analytical tool that helps readers answer fundamental questions about satcom services such as:
Which satellite platforms will suit which applications best? How do they differ?
What is the potential for LEO-HTS systems? How big will the demand be and in which regions?
Where are SCPC and TDMA headed?
How are the different solutions evaluated from an ROI point-of-view? Which solution pays off best for which scenario?
Who are the key players, and what is their market differentiator?
Which regions provide the best prospects over the next 10 years? And how is this regional potential effected by Universal Service Obligations & Funds as well as Infrastructure Sharing Policies
How has the Video Offload opportunity evolved in the last year? Which satellite platforms are best suited to serve this market and in which regions?
What are the expected adoption rates for these wireless options and how does this impact satellite equipment for each of those verticals?
How big is the expected global demand for satellite bandwidth and per region for each of the wireless backhaul, trunking and video offload segments?
How does the addition of new satellite platforms (LEO) as well as innovative ground equipment, such as flat panel antennas affect pricing and market up-take?
The NSR Difference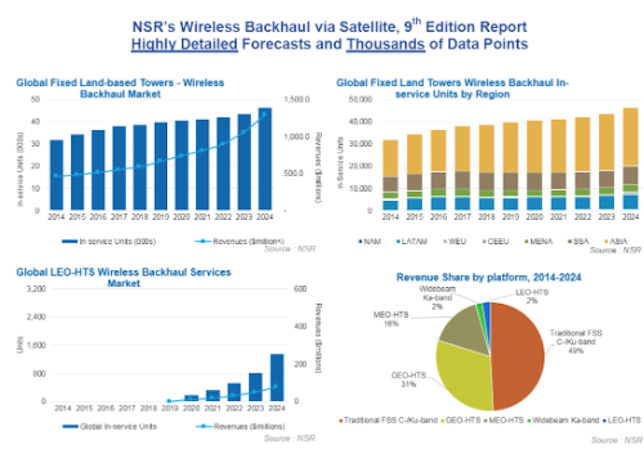 This 9th Edition report establishes for the second year the video offload market as a potential growth opportunity, yet continues studying trunking and backhaul as the major segments of commercial data communications as well as their portion in mobility platforms, such as maritime and aero. The analysis of these three related yet independent businesses for the 2014-2024 timeframe provides fundamental elements and beyond, pertinent to building risk awareness and a strategy for provisioning next-generation services, specifically 3G/4G and video offload services.
The report continues to provide an unbiased and honest assessment of the market and its potential for a wide range of players across the value chain. The value proposition is examined, and the reader has the ability to navigate through multiple options in terms of segments, platforms and regions.