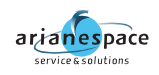 The roadblocks installed on the ultramarine territory were lifted, and Arianespace made no mention referring to the month long delay that prevented the launch of SGDC and Koreasat-7. The social movement that paralyzed Guyana for more than a month ended on Friday, April 21 and now the new date for VA236, the dual launch, is is set on May 4, 2017, as early as possible.
For its fourth launch of the year, and the second Ariane 5 mission in 2017 from the Guiana Space Center in French Guiana, Arianespace will orbit two satellites: SGDC for VISIONA Tecnologia Espacial S.A. on behalf of the Brazilian operator Telebras S.A., and KOREASAT-7 for ktsat of South Korea.
SGDC and KOREASAT-7 are the 555th and 556th satellites to be launched by Arianespace.
This will be the 287th mission by the Arianespace family of launchers, and the seventh all-Thales Alenia Space mission, as both satellites were built by this manufacturer.
Regarding the Geostationary Satellite for Communications and Defense (SGDC)
Brazilian government program has three main objectives:
Reduce Brazil's digital divide by providing high-quality Internet services to 100 percent of the country territory as part of the National Broadband Plan
Provide sovereign and secure means for the Brazilian Government and Defense strategic communications
Acquire critical technologies for the Brazilian space industry, enabling the industry to take increasingly important roles in the future Brazilian space programs
Positioned at 75 degrees West, with its 57 Ka-band beams and 5 X-band channels, the SGDC is a multi-spot beam HTS satellite able to delivering more than 57 Gbps over the Brazilian territory.
The SGDC will be operated and controlled by Telebras S.A., a Brazilian telecommunication company controlled by the Ministry of Science, Technology, Innovation and Communication; and the Defense Ministry.
As SGDC prime contractor, VISIONA Tecnologia Espacial S.A. is responsible for program management, overall system integration and end-to-end communication. SGDC was manufactured by Thales Alenia Space in Cannes, France using the reliable Spacebus 4000C4 platform.
Regarding the launch of KOREASAT-7
VA236 will use an Ariane 5 ECA to orbit two satellites: SGDC for the company VISIONA Tecnologia Espacial S.A. on behalf of the Brazilian operator Telebras S.A., and KOREASAT-7 for the South Korean operator ktsat.
KOREASAT-7 is the third KOREASAT satellite to be launched by Arianespace for ktsat, following KOREASAT-3 and KOREASAT-6, launched in September 1999 and December 2010, respectively.
ktsat, a wholly-owned subsidiary of KT Corp., the largest telecom/media service provider in South Korea, is the country's sole satellite service provider. Since the establishment of the Kumsan Satellite Center (Teleport) in 1970, ktsat has been the national leader in telecommunications and broadcasting services. It currently operates three satellites.
KOREASAT-7 will provide a full range of video and data applications, including:
Internet access
direct-to-home broadcasting (DTH)
government communications and connectivity for VSAT (Very Small Aperture Terminal) networks
Positioned at 116 degrees East, KOREASAT-7 is designed to provide higher throughput and extended coverage over Korea, the Philippines, the Indochinese Peninsula, India and Indonesia. Its added Ka-band capacity, with steerable beams, will enable it to meet increased demand.
KOREASAT-7 was built by Thales Alenia Space in Toulouse and Cannes, France, using a Spacebus 4000B2 platform.