A posting at the Advanced Television infosite by journalist Chris Forrester reveals that, according to Russia's Sputnik news agency, the first OneWeb satellites that will be launched by Soyuz-2 rockets from the Baikonur cosmodrome are on schedule for delivery to the launch site late summer or early autumn. Launches are currently planned to start in December with each rocket carrying 35 per month.
"Deliveries of OneWeb satellites to the Baikonur cosmodrome will start in late summer or early fall of 2019, and [subsequent deliveries] to the Vostochny cosmodrome [will begin] in early 2020," Sputnik states quoting an unnamed source at Baikonur.
In 2015, Russian Space Agency Roscosmos signed contracts with OneWeb and France's Arianespace to carry out a total of 21 commercial launches from French Guiana's Kourou, as well as Russia's Baikonur and Vostochny spaceports, to send 672 satellites to space with the help of Soyuz rockets.
OneWeb has already stated that it will start commercial services in 2021.

Forrester also reported that Elon Musk's debut launch of 60 'Starlink' satellites should happen on May 23rd — probably. Two planned launches last week were scrubbed for bad weather and, in the case of the second launch, in order to update software on the satellites.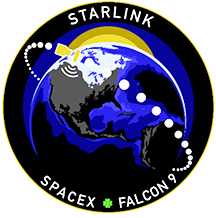 But Musk took the postponement to brief journalists on how he saw the mega-constellation evolving. While the overall plan is to have some 12,000 satellites orbiting in various planes and heights above Earth, Musk says that at about 1000 satellites the Starlink service would become economically viable.
However, he said that with as few as 420 satellites — or 7 launches of batches of 60 craft — then a limited service would be possible, and that just 12 Starlink craft would serve the US.
"It will be a little bit different looking deployment than people are used to," Musk told reporters in a conference call. "It's going to be a very slow deployment where we rotate the stage, and each of the satellites on the stack has a slightly different amount of rotational inertia. So there's not actually a spring-based or specific deployment mechanism per satellite," he added. "The satellites will kind of be deployed, it's almost like spreading a deck of cards on a table. This will be kind of weird compared to normal satellite deployments."
Musk did not expand on the likely cost of the "medium-sized pizza" antennas needed by users on the ground, but stated that each launch would add Terabits of extra capacity to the overall system.
As to the launch of the satellites, they will be placed into orbit at about 440 kms above Earth and use their own thrusters to raise themselves to their target orbit of 550 kms and where tests can then take place.