Presidential candidates from France's far-right and far-left political camps are seizing on protests more than 7,000 kilometres from Paris to bolster their bids for the Elysée Palace next month.
Less than a month before French voters head to polls to pick their next president, far-right candidate Marine Le Pen and far-left candidate Jean-Luc Mélenchon have blasted the government for the social unrest that has erupted across French Guiana.
French Guiana has seen protests due to crime, deteriorating social services and high prices, with unions in the French overseas territory calling on workers to participate in a major strike starting on Monday. The industrial action comes after demonstrations swept across the South American territory, for example blocking key roads.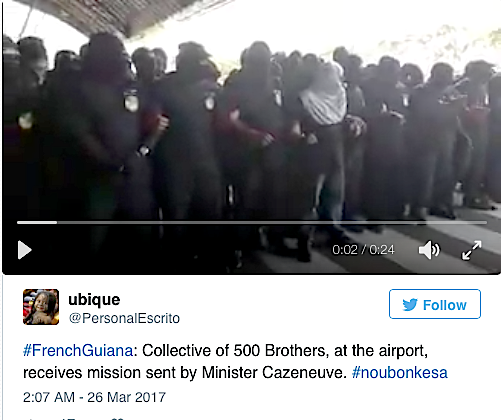 Le Pen, who opinion polls show is poised to be among the top two candidates in the first round ballot on April 23, told supporters in the northern city of Lille that she "understood" the outrage of French Guiana residents, even if she did not agree with the protesters roadblocks.
"I've seen and understood that our fellow citizens in Guiana are fed up. They, like us, are fed up with mass immigration and the insecurity it generates," Le Pen said Sunday, sticking to her core campaign issues of security and immigration.
"Guiana has become the most crime-ridden area in France, public services are overwhelmed and people are shut out of medical services."
Addressing voters in France's overseas territories, where her National Front party tends to underperform in elections, Le Pen added: "Overseas territories must finally be treated with the importance they represent. Order must finally be re-established."
Left wing 'Solidarity'
Speaking to his own supporters on Sunday in the western city of Rennes, the left-wing firebrand Mélenchon also broached the Guiana crisis, expressing "huge solidarity" with the workers who had decided to go on strike.
"Guiana, festering with a lack of security that affects all sectors of society, by longstanding underdevelopment, has become a land of violence with an unemployment rate of approximately 40 percent among young people, the highest in France," he declared. "Their hospitals look more like morgues than places for healing."
Like Le Pen, he drew parallels between the restive north-eastern corner of South America and voter discontent on the mainland in Europe. "What if continental France was also rocked by a health crisis?" Mélenchon asked, promising to improve hospitals and schools if elected president.
Rocket grounded
In recent days demonstrations have paralysed French Guiana, one of three coastal territories wedged between Venezuela and Brazil, prompting a travel alert from the United States government. "Protests in the cities of Kourou and Cayenne have the potential to become violent," the US State Department warned its citizens on Friday.
The protest movement began at the end of February with demonstrations against the high crime rate, with the issue notably driven by the "Collective of 500 Brothers" group. Other activist organisations have joined in since then, widening the scope of grievances and earning the support of several local officials.
The unrest finally caught the attention of the French media last week when Air France cancelled flights between Paris and Cayenne – French Guiana's capital city – and the Arianespace corporation was forced to stop a rocket launch from the Guiana Space Centre in Kourou. The Ariane 5 rocket that was supposed to carry a South Korean and a Brazilian satellite into space has been postponed indefinitely.
Other presidential candidates also diverted their attention to Guiana over the weekend, as the Latin American territory grabbed headlines. Popular independent presidential candidate Emmanuel Macron erroneously called the French overseas territory an "island" during a visit to La Réunion, another French overseas territory, this one being located in the Indian Ocean.
Socialist Party candidate Benoit Hamon said in a statement that Guiana "has the right to equality and security", while embattled conservative candidate François Fillon blamed the unrest on "the failure of [President] François Hollande's policies".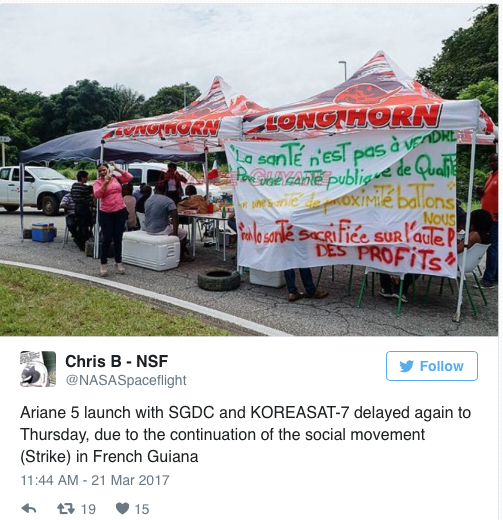 Government hits back
Protesters have demanded direct negotiations in Cayenne with government ministers from Paris. Paris sent a delegation of top officials, but no govenment ministers: the protestors refused to see them. They want to speak to the interior or overseas territory ministers directly in their capital Cayenne. However, the top ministers have so far appeared reluctant to embark on a trip across the Atlantic.
Hollande's cabinet includes a minister specifically charged with overseas territories, Ericka Bareigts, who on Monday once again resisted calls to travel to Guinea. "The conditions needed for dialogue have not been met," she told RTL radio.
The government was nevertheless quick to chastise the presidential candidates for exploiting the crisis in Guinea for electoral gain.
"The insults, exaggerations and misleading statements are contributing to the unrest that is disrupting the lives of our Guyanese citizens," Bareigts said in a joint statement with recently appointed Interior Minister Matthias Fekl on Sunday.
Prime Minister Bernard Cazeneuve also rebuked the presidential candidates, taking specific aim at Fillon and Le Pen. "These are the same candidates who only seem to discover the overseas territories during election season, championing dangerous proposals."
He recalled that Le Pen wants to slash bonuses meant to attract public servants to postings far from Paris, while Fillon wants to modify current tax exemptions for businesses investing in overseas territories.