[SatNews] DigiGone announced the introduction of a new video recording and low bandwidth transmission system for the sports fishing community.
Based on DigiGone's proprietary DigiChat® video encryption and compression technology, the new DigiSport™ will record all action in high definition. DigiSport will also stream those moments live to shore using the existing satellite system, which is a communication solution provider specializing in secure video and audio transmission, system for the sports fishing community.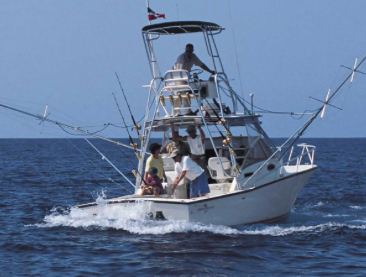 "Using fixed, aerial and underwater cameras, and the vessel's existing FBB or VSAT system, the low cost, low bandwidth DigiSport system will revolutionize the sports fishing market, enabling amateur and professional fishermen alike to capture and share those exciting moments, live for all the world to see," said Michael Dunleavy, president of DigiGone. "DigiSport brings sports fishing to a new dimension of competition, allowing instant access to the action. No longer will those stories be 'stories.' Instead, you can now invite family, friends and competitors to watch you live as you make that 'Big Catch.' Capture and preserve those once-in-a-lifetime moments in high definition and create lasting memories."
DigiSport can be scaled to meet the needs and budget of the fisherman. DigiSport can use a variety of cameras and peripherals such as drones, wireless microphones, handheld wireless cameras, and remote video markers for quick editing referencing, as well as integrate with existing onboard systems as a simple 'add on.' DigiSport uses standard IP for its video and audio transmissions to keep airtime costs at a minimum. Its live streaming capability can be integrated with a website to allow people from all over the world to watch the action from the comfort of their own homes. Or, DigiSport's encrypted channels can restrict viewing to a select few. Its removable hard drive(s) allow for a quick swap out for onshore editing and production.
DigiSport is a derivative of DigiGone's DigiView® CCTV system that has been operating on commercial fleets such as Maersk Line Limited over the past three years. The remote viewing and archived video retrieval capability of DigiView has had a significant impact on vessel operations, globally.