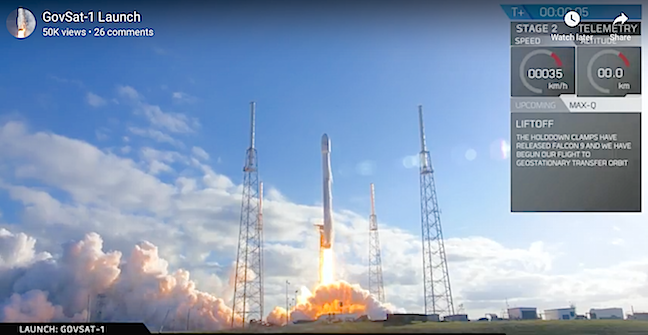 All systems were 'Go!' as the SpaceX Falcon 9 soared skyward with the GovSat-1 mission launched on schedule, on Wednesday, January 31 at 4:25 p.m. EST, and appears to be making nominal ride up to geostationary transfer orbit on Wednesday afternoon.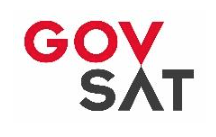 The first stage did not make a landing on the drone ship "Of Course I Still Love You" because that will be needed for a Falcon Heavy launch that could come as soon as February 6.
GovSat-1 is the first satellite of GovSat, a public private partnership between the Government of Luxembourg and the satellite operator SES.
GovSat-1 is designed for dual use, supporting both defense and civil security applications, including mobile and fixed communications. It also provides enhanced resilience capabilities — with anti-jamming features, encrypted Telemetry and Control, and use of military frequencies. It is the first time that such an extensive security-enhanced satellite communications capability is being provided out of a public-private venture, where world-leading satellite operator SES combines its expertise with the ambitions and values of the Luxembourg Government.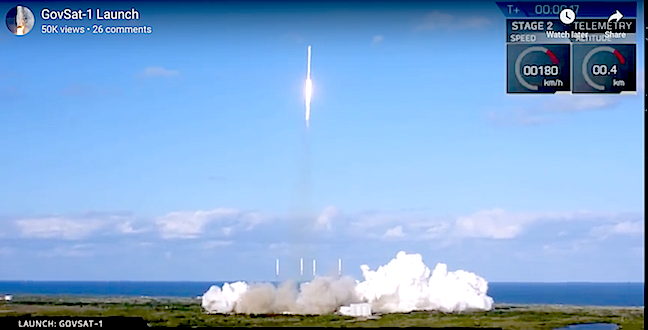 The satellite enables secure communication links between theaters of tactical operations, for maritime missions or over areas affected by humanitarian crises. The satellite is entirely dedicated to government and institutional users, and will be operated by GovSat from the Secure Mission Operations Centre in Luxembourg. The secure and robust connectivity on GovSat-1 will enable critical communications in theatres of operations, interconnect key institutional or defense sites, and support applications such as Intelligence, Surveillance and Reconnaissance (ISR) and communications on the move, among others.
The highly flexible and resilient GovSat-1 payload features advanced security capabilities and uses dedicated frequencies in X-band and military Ka-band. GovSat-1 is equipped with six high-powered fully steerable spot beams, a high-power X-band Global beam, and features sixty-eight transponder equivalent units in total. It is designed to operate for 15 years, and has a launch mass of over four metric tons.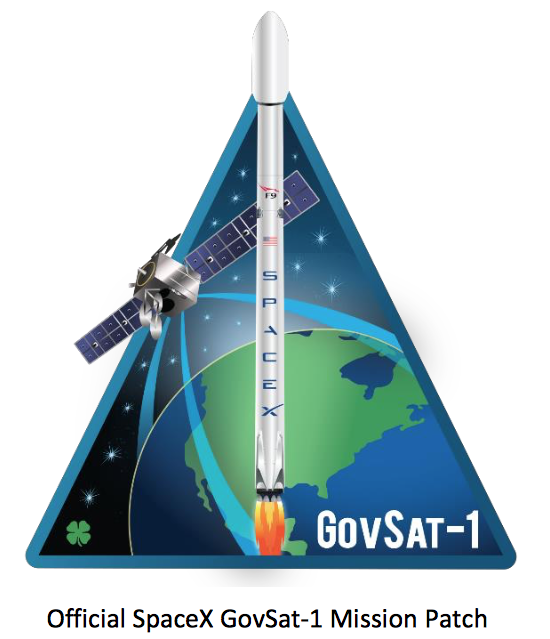 Equipped with anti-jamming features, encrypted telemetry and control, GovSat-1 will provide enhanced resilience capabilities operated out of secured ground control facilities.
GovSat-1 will be positioned at 21.5 degrees East in the Geostationary Earth Orbit (GEO) 36,000 kilometers above the equator. It will support communications within Europe, the Middle East and Africa, and enable operations over the Atlantic and Indian oceans, as well as over the Mediterranean and Baltic seas.
The Luxembourg Government has pre-committed an important amount of capacity on the satellite in support of its NATO commitments. The remaining capacity will be made available to governmental and institutional users on commercial business terms.
"The launch of GovSat-1 opens up a new era of secure satellite connectivity for governments and institutions," said Patrick Biewer, Chief Executive Officer of GovSat. "It brings differentiated capabilities on secure X- and military Ka-band, leveraging private sector efficiencies and strong governmental support. GovSat-1 was designed to meet the specific needs of government customers, and will enable a wide array of defense and civilian security applications, even in the most remote locations."
Xavier Bettel, Prime Minister of Luxembourg, said, "Luxembourg has always been a pioneer in the space industry and has a long tradition in innovative partnerships with private aerospace companies. The launch of GovSat-1 is the beginning of a new space experience for Luxembourg, after the foundation of SES in 1985 and the launch of the first SES satellite nearly 30 years ago. GovSat and the launch of GovSat-1 is another step towards strengthening the position of Luxembourg as a key player in the aerospace sector, and contributes to a diversification of our economy."
Etienne Schneider, Deputy Prime Minister and the Minister of the Economy, said, "Luxembourg has delivered on our pledge to increase our defense spending as a NATO ally in line with our defense commitments. We are doing this through an innovative partnership with the Luxembourg based leading satellite operator SES. We are thus providing an efficient and reliable solution for satellite communications that meets the increasingly sophisticated demands of our NATO allies. We are leveraging the competences of the Luxembourg space industry, which enjoys a great reputation worldwide and is further being developed through Luxembourg's SpaceResources.lu initiative."
Karim Michel Sabbagh, President and CEO of SES, said, "Global government satellite communications is an important growth driver for SES, and we continue to expand our capabilities to serve this thriving market. The GovSat-1 satellite brings differentiated capabilities which complement SES's existing suite of offerings for governments and institutions. This unique solution is possible thanks to our partnership with the Luxembourg Government."
Next up for SpaceX...
When Falcon Heavy lifts off in February 2018, it will be the most powerful operational rocket in the world by a factor of two. With the ability to lift into orbit over 54 metric tons (119,000 lb) — a mass equivalent to a 737 jetliner loaded with passengers, crew, luggage and fuel — Falcon Heavy can lift more than twice the payload of the next closest operational vehicle, the Delta IV Heavy, at one-third the cost. Falcon Heavy draws upon the proven heritage and reliability of Falcon 9.
Its first stage is composed of three Falcon 9 nine-engine cores whose 27 Merlin engines together generate more than 5 million pounds of thrust at liftoff, equal to approximately eighteen 747 aircraft. Only the Saturn V moon rocket, last flown in 1973, delivered more payload to orbit. Falcon Heavy was designed from the outset to carry humans into space and restores the possibility of flying missions with crew to the Moon or Mars.
SpaceX's SLC-40 at Cape Canaveral Air Force Station is located at the north end of Cape Canaveral Air Force Station and is a launch site with a strong heritage that was used for many years to launch Titan rockets, among the most powerful in the U.S. fleet. SpaceX took over the facility in May 2008.
The center of the complex is composed of the concrete launch pad and flame diverter system. Surrounding the pad are four lightning towers, propellant storage tanks, and the integration hangar. Before launch, Falcon 9's stages and payload are housed inside the hangar. The payload is mated to the Falcon 9 inside SLC-40's hangar on the transporter erector. The rocket and payload are then rolled out from the hangar to the launch pad and lifted to a vertical position.