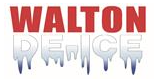 [Satnews] Walton De-Ice, designer and manufacturer of satellite Earth station antenna (ESA) weather protection solutions, announces that STN, the Satellite Telecommunications Network, has extensively deployed Walton's Plenum Hot-Air De-Icing systems (Walton De-Ice Plenum, Snow Shield and Ice Quake systems) to help provide the highest level of uptime during winter at STN's teleport.

STN is a leading global satellite service provider, with over 600 TV channels transmitting from its world-class facilities, STN Teleport in Slovenia, in the EU. "To ensure our clients' continued and uninterrupted transmission during strong alpine winter conditions, a reliable de-icing system is crucial," according to Jurij Blazin, Technical Director for STN. "As STN's antenna farm is growing year-on-year, power consumption increases. To maximize energy consumption efficiency, we decided to upgrade our systems with Walton De-Ice's latest gas heaters, which not only reduces costs but also provides redundancy and reliability."

"Having enjoyed successful experiences with prior Walton De-Ice systems, we upgraded to the gas version, keeping the previous electric based system as back up support," explains Blazin. "Always looking to the future, STN purchased Walton's de-icing systems together with new transmit antennas."
Walton's Hot Air De-Ice systems, including the company's unique Plenum enclosure installed on the rear of an antenna, provide the most reliable and economic antenna de-icing solutions on the market, offering maximum flexibility with electric, natural gas, and liquid propane gas heater options.
Unlike other types of heaters such as electric pad systems that can cause reflector distortion, Walton Hot Air De-Ice systems heat the entire antenna reflector uniformly, which minimizes reflector distortion that can cause signal problems, even more so at Ku-, and Ka-Band.
"We are delighted that STN, one of the most dynamic and growing players in the satellite industry, has decided to further leverage Walton De-Ice's 36-plus years of field-proven leadership worldwide in protecting satellite earth station signals from the effects of snow and ice," says Bill Walton, President of W.B. Walton Enterprises, Inc. (Walton De-Ice).
During the SATELLITE 2016 trade show March 7-10th, 2016 in Washington, D.C, at Booth 835, Walton De-Ice will be promoting its latest in gas and electric heated hot-air Plenum systems for large antennas, as well as its innovative Ice Quake, and Snow Shield solutions.