Evolutionary growth keeps the commercial satellite industry alive. And with those changes now also comes the evolution of non-GEO orders that will greatly increase in this decade.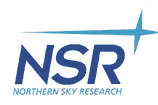 "It is not the strongest of the species that survives, not the most intelligent that survives. It is the one that is the most adaptable to change."
—Charles Darwin
Evolutionary growth has characterized the commercial satellite industry since its inception in the 1960s: change endured when and where it conferred a competitive advantage, but radical new developments have been few and far between. Yet the right combination of pressure is triggering an eruptive evolution of satellite capabilities and the companies that manufacture them: mass production-line facilities, in-orbit construction, limited ground testing, the list goes on. A budding transformation in the industry at large, linked to global technological innovations in non-satellite fields, is driving this change: declining capacity pricing, emergence of vast new satellite projects, and diversifying applications are leading operators to more critically assess satellite design and cost to optimize ROI. Leading operators are becoming more flexible and risk-tolerant in this search for ROI, providing an opportunity for manufacturers to explore new processes, technologies, and mindsets that could be a radical evolution of the satellite manufacturing paradigm.
NSR's Satellite Manufacturing and Launch Services, 6th Edition report found that in commercial markets, average annual GEO orders will decline by 5 percent, and non-GEO orders will increase by more than 600 percent in the coming decade. The GEO communication market will settle just below 21 orders per year, while non-GEO orders will exceed an average of 100 orders per year for communications and 15 for Earth Observation. This means that manufacturers will be challenged to maintain market share in a contracted GEO market while developing new capabilities and resources to pursue deals emerging in non-GEO.
GEO Communications remains the largest market in terms of revenue generation—71percent of revenue associated with this forecast—making it an attractive target for manufacturers. In addition to today's eight leading primes, OHB, SSTL, and Dauria Aerospace are developing their first GEO communications satellites, and Sierra Nevada and Magellan Aerospace are looking to enter the market. While flight heritage has been a key competitive factor traditionally, operators are beginning to assign more weight to satellite capability and cost, and these new players will infuse potentially novel ideas from their past experience into GEO proposals. Competition is increasing in non-GEO markets as well, as new players emerge and some operators look to manufacture satellites in-house. Plus, as non-GEO markets are bundled into fewer, high volume constellation contracts, each win and loss is significant.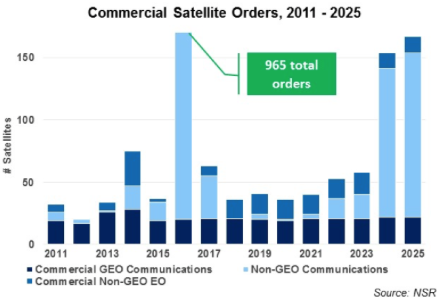 This heightened state of competition in both markets means that the slightest unique characteristic could become a survival trait. In this situation, change is no longer an option but a requisite to succeed in the more competitive, transformational market:
Technology: Pressure for operators to increase capabilities while decreasing pricetrickles down to manufacturers. HTS and full electric propulsion have been two critical breakthroughs contributing to a lower average cost per bit in orbit, but operators have long demanded flexible power allocation, coverage areas, and frequencies. For Earth Observation applications, higher spatial resolution, diverse sensor types, and lower mass/volume envelopes continue to be the thrust of R&D goals. Yet the reality lags behind the vision. NSR's analysis found that the overall rate of satellite capability advancement concurrent with price declines remains lower than in other technology dependent industries such as consumer electronics and medicine.
Culture: As noted by manufacturers at Satellite 2016, company culture has been a barrier to this rate of technological advancement. This results from decades of risk aversion on the part of satellite operators and an aging workforce, but now that operator receptivity to new and more cost effective capabilities is growing, manufacturers must transform to an environment that supports high-risk innovation and unique solutions to spur technology development and deliver on operator demands.
Cross-Innovation: While strategies for success differ across the commercial GEO communications, non-GEO communications, and non-GEO Earth Observation markets, engagement in all three will diversify competitive positioning and bolster market share for manufacturers. The low price points and rapid development requirements of constellation contracts drive manufacturing creativity, particularly when a new production line is established. Innovation spurred in this way can be applied through cross-innovation to other non-GEO and GEO product lines, adapting attributes of a given technology or process to the unique requirements of each target market. Broader cross-industry innovation contributes further to new ideas and approaches.
The Bottom Line
With a tighter market, a broadening population of competitive manufacturers, and an increasing ability to construct satellites in-house, operators are in the driver's seat for procurements more than ever before. However, operators themselves are facing a highly competitive market, requiring advanced technologies and creative ideas to sustain ROI and their own market position. These evolutionary pressures will take time to unfold: manufacturers can continue to win GEO contracts, and even the occasional non-GEO constellation contract, in this environment in the short-term without significantly altering their approach. Long-term success, however, will be reserved for those capable of adapting their mindset and processes to tomorrow's demands and setting aside the traditionally insular nature of the satellite industry to welcome innovation from any source.