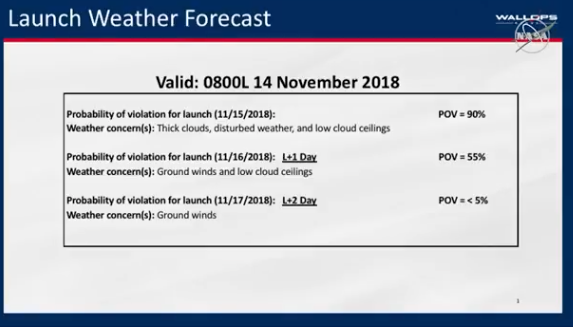 The resupply mission originally scheduled for Thursday, November 15, has now been moved out due to weather.
NASA POST-LAUNCH PRESS CONF FOR NG-10 CARGO MISSION TO ISS, Nov 16, 2018, 7:00 am ET (webcast)
UPDATE, Nov 14: The launch was delayed one day due to weather. It is now scheduled for Nov 16 at 4:23 am ET. Presumably the post-launch press conference will follow at 7:00 am ET that day, although it was not specifically stated.
Original Entry: NASA will hold a post-launch press conference following the launch of the Northrop Grumman-10 (NG-10) cargo mission to the International Space Station.
Launch is scheduled for 4:49 am ET from Wallops Flight Facility, Virginia.
A combined effort will result in NASA and their commercial partner, Northrop Grumman, launching the Antares rocket, carrying the Cygnus cargo spacecraft, named the SS John Young.
Loaded with 7,500 pounds of research, crew supplies and hardware, this is the tenth commercial resupply mission for Northrop Grumman. About 70 minutes after launch, an automated command will initiate deployment of the spacecraft's solar arrays. Full deployment will take approximately 30 minutes.
The Cygnus spacecraft is scheduled to remain at the space station until February 12, 2019, when it will depart, taking with it several tons of trash, and deploy several CubeSats before its fiery reentry into Earth's atmosphere.