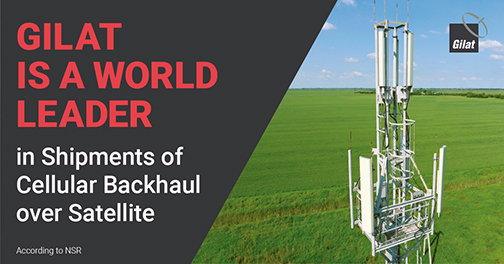 Gilat Satellite Networks Ltd. (NASDAQ, TASE: GILT) has gained a global leadership position in shipping products for cellular backhaul over satellite, according to an NSR report, 13th Edition, Wireless Backhaul & 5G via Satellite, that was published in April 2019. Gilat achieved a 35 percent market share in modem shipments for cellular backhaul over satellite according to the NSR report.
Market analysts are unified on the fast growing 4G/LTE satellite backhaul market. NSR reports the service, equipment, and capacity for this market at $820 million in 2018 with an expected growth to $3,790 million by 2028. NSR further reports that bandwidth pricing efficiencies will contribute to a growing demand for differentiated managed service solutions in rural areas, providing growing opportunities in the industry.
Gilat's cellular backhaul leadership is most noteworthy with tier-1 MNOs deploying LTE networks throughout the globe. Such deployments include T-Mobile and Sprint in the United States, EE/BT in the UK, SoftBank and KDDI in Japan, Telstra and Optus in Australia, and Globe in the Philippines. Gilat has deployed full turnkey solutions providing managed services in numerous deployments in America and Asia.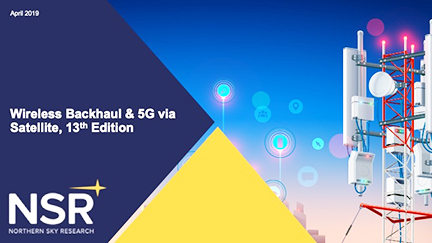 Lluc Palerm, Senior Analyst at NSR, reported that with their innovative technology, Gilat has been able to lead the way for 4G over Satellite with deployments for Tier-1 operators of unprecedented sizes in the satellite space. As MNOs continue upgrading its rural networks into 4G, and eventually 5G, Gilat is strongly positioned to continue experiencing growth in Backhaul. Gilat technology is becoming a key tool for its network of partners to capture growth: MNOs experience extended reach adding new subs economically, satellite operators see growth in capacity leases as 4G services over satellite are enabled, and services integrators can tackle new customers with Gilat's powerful network management tools. This translates into Gilat achieving the first position in modem shipments in Cellular Backhaul with a 35 percent market share in 2018.
Asaf Jivilik, Head of Marketing and Business Development at Gilat, noted that providing end-to-end cellular backhaul solutions over satellite is a strategic focus area for Gilat, and the company is pleased with NSR's recognition of Gilat's global leadership in this important market segment. Gilat's future-ready cellular backhaul solution positions Gilat for further success and supports our vision of providing affordable, plentiful, high quality broadband connectivity.