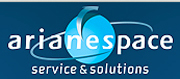 The March 6 liftoff of the Sentinel-2B EO satellite has now been approved by Arianespace following a launch readiness review for this Vega empowered mission.

The review was conducted at the Spaceport in French Guiana and confirmed the "go" status of the four-stage Vega and the 1,130 kg Sentinel-2B payload along with the Spaceport's launch site infrastructure and the network of trajectory-following tracking stations. All is now set for a liftoff at precisely 10:49:24 p.m. local time in French Guiana (1:49:24, Universal Time – UTC on March 7) for a mission that is expected to last for 57 minutes, 57 seconds.
Designated Flight VV09 in Arianespace's launcher family numbering system, this will be the ninth Vega launch since the rocket's Spaceport introduction in February of 2012 and is one of up to 12 missions planned by the launch services company for completion during 2017. Previous flights this year were a heavy-lift launch with Ariane 5 on February 14, which placed the SKY Brasil-1 and Telkom 3S relay satellites into geostationary transfer orbit (GTO); and a medium-lift Soyuz launch on January 27 that delivered Europe's first "SmallGEO" relay platform, Hispasat 36W-1, into GTO.
After the Sentinel-2B's deployment by Vega on Flight VV09, Sentinel-2B will operate at an altitude of approximately 786 km, with a design lifetime of seven-plus years. The spacecraft is equipped with a multispectral, wide-swath, high-resolution optical imaging instrument, with the primary goal of monitoring land masses and coastal zones around the world. Data collected by Sentinel-2B is to be used for applications involving the monitoring of vegetation, soil types and habitats.
Sentinel-2B is the fourth Copernicus program satellite to be orbited by Arianespace and follows the successful launch of Sentinel-1A on a Soyuz in April 2014, the lofting of Sentinel-2A aboard a Vega in June 2015, and the deployment of Sentinel-1B by a Soyuz in April 2016.
The development of Sentinel-2B is the result of the close collaboration between the European Space Agency, the European Commission, service providers and data users. A consortium of companies led by Airbus designed the mission and built the spacecraft, supported by the French CNES space agency and the DLR German Aerospace Center.