[SatNews] They'll come together to share the sights they've seen in this satellite's telescope, and then look to the future.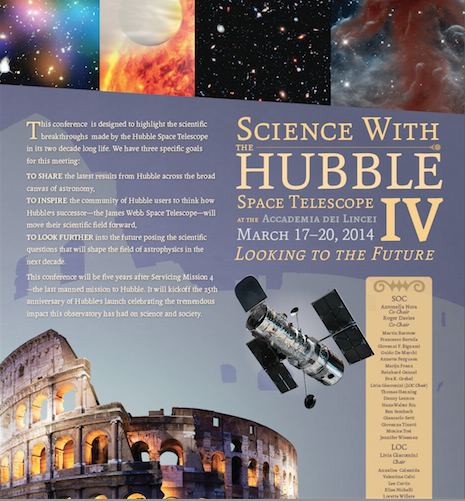 From March 17–20, 2014 the Accademia dei Lincei (http://www.lincei.it/) in Rome, Italy, will host the fourth Hubble Space Telescope conference: "Science with the Hubble Space Telescope IV — Looking to the Future" (http://www.stsci.edu/institute/conference/hst4/). This conference will kick off the 25th anniversary of Hubble's launch in 2015, celebrating the tremendous impact the telescope has had on science and society.
"Science with the Hubble Space Telescope IV" aims to highlight the almost quarter century of ground-breaking science and spectacular images that have come from the telescope, as well as pushing forward with discussions about Hubble's successor, the James Webb Space Telescope (http://www.jwst.nasa.gov/). The conference will also explore the key questions that will shape the field of astrophysics in the coming decades. The full and final conference programme is available here (http://www.stsci.edu/institute/conference/hst4/scientific-program). It includes a wide variety of scientific talks and social events.
Bona fide media representatives are invited to attend the conference, and may apply to participate by contacting hubble@eso.org before March 1, 2014. Successful applicants will have their registration fee waived, but travel costs and other expenses will not be covered. Interviews with participants at the conference will also be possible.
Media attendance at the conference will unfortunately be limited as space is tight, and we encourage journalists to register as early as possible. For scientists the general registration must be completed by 1 March 2014 — details can be found here (http://www.stsci.edu/institute/conference/hst4/pre-registration).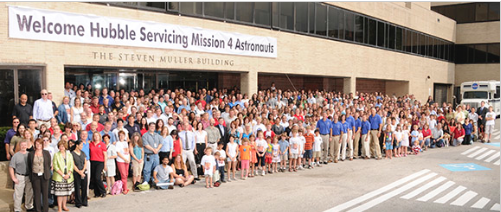 Science Telescope Science Institute is a free-standing science center, located on the campus of The Johns Hopkins University and operated by the Association of Universities for Research in Astronomy (AURA) for NASA.
This center operates the science program for the Hubble Space Telescope and will conduct the science and mission operations for the James Webb Space Telescope and supports other astronomy programs and conducts world-class scientific research.
STScI creates HST and JWST news, outreach, and education programs.
Total staff ~ 500: scientists, post-docs, engineers, administrators.