Idaho's first satellite, MakerSat-0, is scheduled to launch into space aboard a Delta II rocket at 2:47 a.m. MST Tuesday, November 14, from Vandenberg Air Force Base.

A cubesat designed by students at Northwest Nazarene University and Caldwell High School in Idaho, MakerSat-0 will carry electronics that will, for the first time in history, collect real-time data on the effects of the harsh environment of space on 3D-printed polymer materials.
MakerSat-0 will orbit around the Earth's poles 14 times a day at 17,000 mph for the next several years, sending back data on the robustness of various 3D printed polymers in the harsh space environment and measuring space radiation levels in the polar auroras. The student team can access the research data from their smartphones, starting three hours following the launch. This data will help determine the best materials for future 3D printed spacecraft, including NNU's upcoming MakerSat-1, the first satellite to be made in space. MakerSat-1 will be 3D printed, assembled and deployed from the International Space Station (ISS) in early 2018.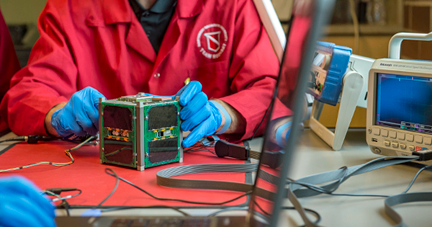 This project was made possible through funding by Idaho Space Grant Consortium and partnerships with Made in Space, Near Space Launch, NASA, NanoRacks and Plexus. MakerSat-0 is one of five smallsats selected for NASA's ELaNa XIV mission on this launch, which was enabled by NASA's CubeSat Launch Initiative. Vanderbilt University, Massachusetts Institute of Technology, Embry-Riddle University and DSTG Australia are the other institutions with smallsats on this launch.
Lead by Dr. Stephen Parke and Dr. Joshua Griffin, the NNU MakerSat-0 team includes six engineering students: Braden Grim, Mitch Kamstra, Robert Hance, Connor Nogales, Aaron Ewing, Keith Moilanen and Benjamin Campbell.
Watch the launch live on NASA TV or at the NNU launch party at 2:15 to 3:15 a.m. on November 14 in the Jackson Auditorium, Thomas Family Health and Science Center, 603 E. Dewey, Nampa, Idaho.
"This is the first of two MakerSat missions that we're launching in partnership with Made In Space," said Dr. Stephen Parke, NNU engineering professor and faculty lead. He added that the MakerSat missions will provide the space community with invaluable test data on how these materials react to oxygen plasma, ultraviolet and ionizing radiation, vacuum, extreme temperatures, and micrometeorite collisions. This team of NNU engineering students has been tirelessly dedicated to seeing the MakerSat missions come to reality over the past three years. He added, "We are thankful to the Lord, our Maker, for blessing us with this opportunity to do ground-breaking science and technology here at NNU for the benefit of the world."