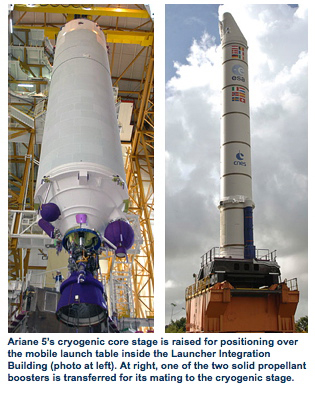 The assembly of another new Ariane 5 is now underway at the Spaceport in French Guiana as parallel preparations advance for two upcoming missions with Arianespace's workhorse heavy-lift launcher.
The latest
Ariane 5
will be used to orbit
TerreStar-I
— the world's largest and most powerful commercial telecommunications satellite — which is to be lofted on a flight planned for Spring. Build-up activity began yesterday with the erection of Ariane 5's core cryogenic stage inside the Spaceport's
Launcher Integration Building
.  The cryogenic stage was immediately positioned over one of two operational mobile launch tables for the heavy-lift launcher.  This clears the way for the mating of Ariane 5's two solid propellant boosters — the first of which was moved into the Launcher Integration Building on the same day. Once these boosters are integrated, Ariane 5 is to be fitted with its cryogenic upper stage and vehicle equipment bay, after which the launcher will be ready for delivery to the Spaceport's Final Assembly Building.  At this point,
Arianespace
will take over responsibility for TerreStar-I's installation on the vehicle, followed by its launch.
TerreStar-I
is a 2-GHz mobile services satellite that currently is entering its final integration and testing phase with U.S. spacecraft manufacturer
Space Systems/Loral
.  Equipped with an antenna nearly 60 feet across, this relay platform will provide up to 500 dynamically-configurable spot beams, surpassing current-generation satellites in terms of signal sensitivity and the number of spot beams it can generate. As TerreStar-I's Ariane 5 begins its build-up in the Launcher Integration Building at French Guiana, another vehicle is awaiting its payload in the Spaceport's Final Assembly Building.  This Ariane 5 will carry the European
Herschel
space telescope and
Planck
observatory on a mission to explore the universe's origins. The Herschel/Planck mission currently is on standby after the European Space Agency requested time for additional checks on the ground segment for these two European space science payloads.  A new launch date is expected to be announced at the end of this month.