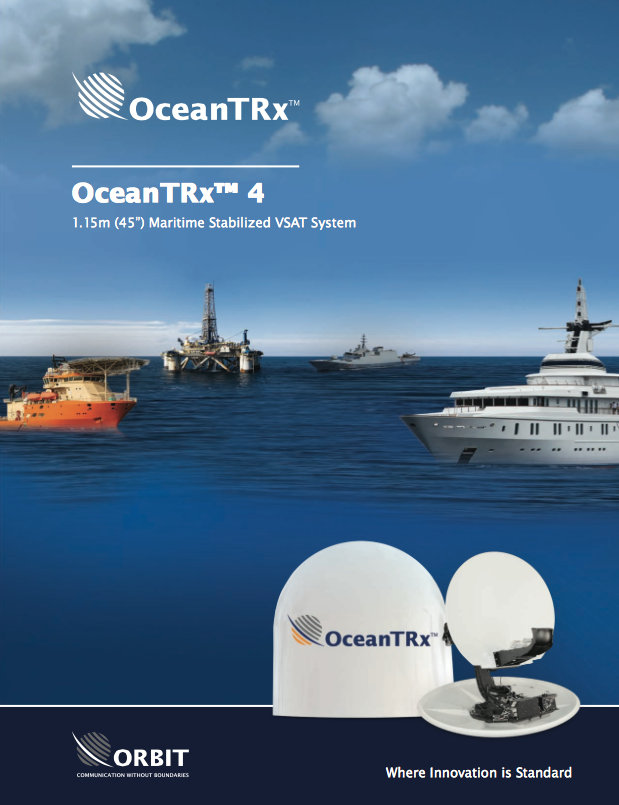 [SatNews] ORBIT Communication Systems Ltd., announced that it has received an order to supply its new OceanTRx™4 maritime satellite communication systems to an Asian Navy.
The Asian Navy has been operating ORBIT's previous-generation OrSat™ maritime VSAT systems for the past five years. Reflecting its satisfaction with system performance and its confidence in ORBIT's technology, the Navy has now ordered the OceanTRx™4, ORBIT's new SatCom maritime VSAT solution, for installation on its new ships.
According to Ofer Greenberger, ORBIT's CEO: "This follow-on order for our OceanTRx™ system serves as a confirmation of the outstanding performance and value of our maritime VSAT Systems. By deploying OceanTRx™, the Asian Navy will continue to benefit from ORBIT's cutting edge performance and support, which enable reliable and cost effective high throughput broadband data communications on board their ships."
OceanTRx™ 4 is a 1.15m/45" stabilized VSAT antenna system that supports multi-band frequency configurations such as X-, Ku- and Ka-bands and different BUC power levels. Supporting a broad range of mission-critical applications, OceanTRx™ 4 features inherent field upgradability, solid RF performance and dynamic response under virtually any sea conditions. The innovative design of ORBIT's OceanTRx™ provides performance and significant competitive advantages in virtually every performance aspect.
To date, ORBIT's maritime satellite communication systems are deployed at more than 20 navies worldwide, as well as being used in market segments such as homeland security, Oil & Gas, leisure and commercial shipping. These systems are considered the world's leading solutions of their kind due to their technical performance and durability under the most demanding conditions. Equally remarkable is their compatibility with international standards, including performance and regulatory compliance per the demands of the world's largest satellite companies.