Journalist Chris Forrester has posted at Advanced Television that Intelsat has reported total revenue of $542.8 million (478.6 million euros) and net loss of $111.3 million for the three months ended December 31, 2018. For the full year, Intelsat reported total revenue of $2,161.2 million and net loss of $599.6 million.
Those cold numbers reflect much of what the market was expecting. Stephen Spengler, CEO of Intelsat, said that the operator's 2019 priorities were to focus on its high-throughput fleet of 'EPIC' satellites, and to continue working hard to clear — with SES — 200 MHz of spectrum over the U.S. for repurposing and sale for 5G.
Equity analysts at investment bank Exane/BNPP said the results were disappointing. "Q4/18 revenues of $543 million declined by 4 per cent y-o-y driven by lower renewals and lower pricing in Government, Media and Networks. This was broadly in line with consensus expectations. Pricing pressure in Government and Networks for wide beam capacity is presented as the main driver of the revenue pressure. Lower volume consumption in the US and Latin America is given as the main driver of the decline in Media. Intelsat's contracted backlog (adjusted for ASC 606 accounting changes) fell from $7.3 billion at the end of September 2018 to $7.1 billion at the end of December."
In terms of 2019 outlook, Intelsat is guiding for revenues and EBITDA that are respectively 3 and 5 percent below current consensus forecasts. This reflects a guided decline of 3 to 6 percent in Media, 3 to 6 percent in Networks and -1 to +2 percent revenue growth in Government. Increased direct costs and lower revenues explain the comparatively disappointing EBITDA outlook.
Exane's analyst Sami Kassab said there are important lessons for Europe's two satellite players (SES and Eutelsat). "Intelsat Q4/18 brings home the intense pricing pressure that the industry is suffering from especially for wide beam capacity. While the read across is negative for European satellite operators, we note that each player has its own specificities that drive differences in operating trends. Intelsat has historically been more exposed to Trunking and cable distribution, structurally more challenged segments. Volume reductions in video capacity consumption is partly reflective of its US cable distribution focus. Eutelsat volume consumption is growing as per management statement and our own independent tracking. SES Networks has been a growth driver throughout 2018 as it has gained share thanks to lower priced higher capacity services."
---

Forrester is also reporting at Advanced Television that Israeli airline EL AL's is using Viasat's ViaSat-2 satellite to supply WiFi for passengers on its transatlantic flights.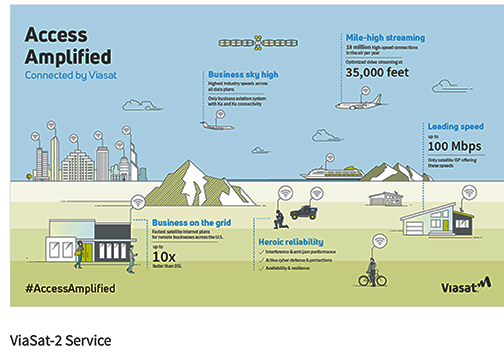 Passengers can access high-speed, high-quality internet to key EL AL routes flying to and from major North American destinations including: New York, Toronto, Los Angeles, Miami as well as San Francisco and Las Vegas, when flights to these destinations begin in May and June 2019, respectively.
Viasat's in-flight WiFi service states the technology offers an at-home or office experience in the sky, keeping flight crews connected for enhanced passenger service and enabling passengers using smartphones, tablets or laptop computers the ability to browse websites, connect to email and instant messaging, use apps and social networks and to stream music and/or films when in-flight.
When flying on transatlantic routes, the system will connect to the ViaSat-2 satellite, which offers high-quality Ka-band capacity over the Atlantic Ocean, giving passengers a high-performing internet connection from across North America and the Atlantic Ocean to Europe.
The Viasat system is available on the airlines' eight new Boeing 787 Dreamliners, eight Boeing 737-900 aircraft and two Boeing 737-800 aircraft.